As everyone probably knows, Game Of Thrones finally returned on Sunday night, so everyone can hopefully now stop banging on about what happened to Jon Snow. I say 'as everyone probably knows' because even if you hate the show, then you almost certainly must have known about it because it's all everyone ever talks about on their social media feeds. Get ready for 10 weeks of it .
Featured Image VIA
Anyway, if you weren't convinced of its incredible popularity yet then maybe this little story about how it's so popular that it actually dramatically affects how people watch pornography might convince you. Apparently PornHub's statistical analysis team reported a 4% drop in traffic during the time of the series premiere on Sunday night. Although that might not seem like a big deal, when your site has 60 million users, then it literally represents millions of people changing their porn schedules to find out what happened to Jon Snow. That's a big deal.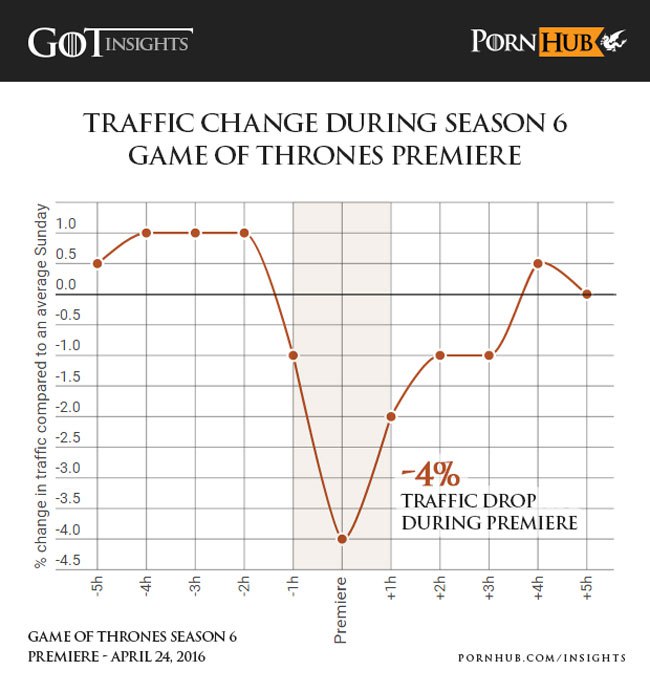 It's also important to note that traffic didn't return to normal until after midnight, which kind of suggests it took the whole of the country two full hours to recover from that scene at the end. Not surprising really.
Here's some more funny facts PornHub found out t00 – on the day of the premiere there was a 370% increase in Game Of Thrones searches on the site. Yeah, all the dirty scenes from it are available to watch on it and they've got a bunch of porn parodies on there too. You probably already knew that though.
However, I suppose we shouldn't really be surprised about this. I mean of course people who like porn are going to love Game Of Thrones too, it's obvious – they're all geeky nerds who can't get girlfriends. The only question left now is whether or not Fallout 4 or Game Of Thrones causes the biggest spike in porn traffic, after Fallout 4 had a serious impact upon its release last October too.