If you grew up in the 00s, then it's a fairly safe bet that you probably would have seen a few episodes of Scrubs and probably know a whole bunch of it off by heart. It was pretty much 'Friends' but a few years later and set in a hospital and both sitcoms are almost certainly going to live on forever via endless reruns on whichever channel has the rights these days. That's just the way it was back then.
Featured Image VIA
The love for the show can't really be illustrated better than in this story revolving around long suffering lawyer Ted – or more accurately Sam Lloyd, the actor who plays him. 55 year old Lloyd was recently diagnosed with both lung cancer and a brain tumour just as he and his wife Vanessa welcomed their first child. Talk about the worst possible timing, right?
Fortunately, it looks as though Sam is going to have the best chance of survival though thanks to a GoFundMe page that has been set up to help pay his medical bills which smashed its $100,000 goal within two days thanks to everyone who loved the show pitching in to help. That really is a heartwarming story isn't it?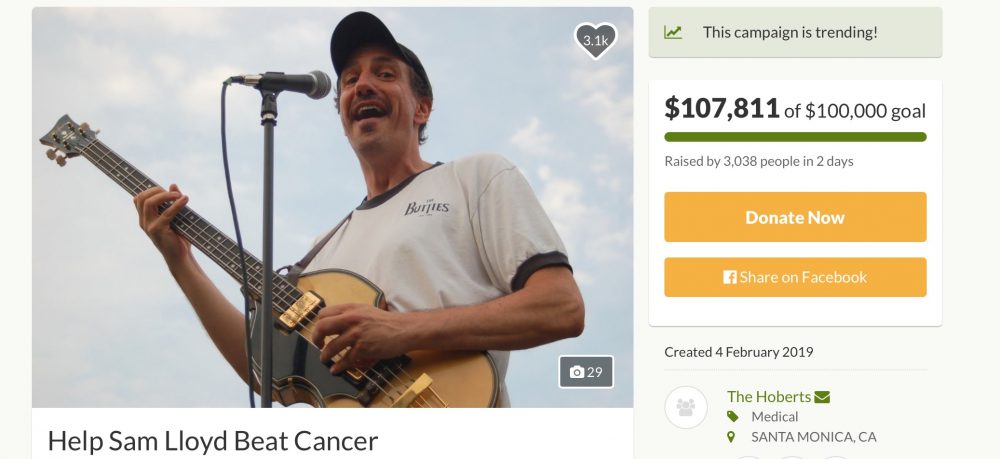 Here's the text of Sam's GoFundMe page as I'm sure some of you will want to understand the battle that he's currently facing:
Midway through January, Sam began to experience headaches and he had lost 10 pounds. He figured the headaches were caused by the lack of sleep that came along with his new role as Daddy, and the weight loss seemed like it could easily be the byproduct of a busy schedule – Sam had spent the better part of 2018 going back and forth to Vermont to care for his ailing mother, Marianna.

On Thursday, January 17th, as his headaches grew stronger, Sam decided to go to the doctor. The doctor thought the pain might be sinus-related so he ordered a CT Scan. The scan revealed a mass on Sam's brain.

Within a day, he was in brain surgery. Unfortunately the tumour was too intertwined so the surgeons couldn't remove it.

By Sunday, Sam and Vanessa were informed that the cancer in his brain had metastasized from his lungs. Further scans showed the cancer was also in his liver, spine, and jaw.

In the face of this devastating news, Sam and Vanessa have been incredibly strong and positive. Humour and laughter, which have been a huge part of Sam's life, will undoubtedly help him with what lies ahead.

Just hours after being diagnosed, Sam was cheering on his beloved New England Patriots in his hospital room. When the nurse asked him to 'Cheer quieter," Sam politely nodded. When the nurse left the room, Sam turned to Vanessa and his friends and said, "What are they gonna do? Kill me?
Good to know that Sam's facing his challenge in the best of spirits and he's already smashed the total. Best of luck with what's coming up dude – and if you wanna contribute to the GoFundMe then head here.
For more Scrubs, check out Zach Braff trying to make a reunion happen. Do it dude.