Former N-Dubz rapper Dappy has really gone downhill in recent times (were they ever uphill?) as he was recently arrested for going on a rampage during a row with his girlfriend.
Featured Image VIA 
Originally, Dappy was arrested for hitting Imani Campbell with a tennis racket, although a not guilty plea was accepted by Luton Crown Court.
However, Dappy – real name Costas Contostavlos – has admitted to having a butcher's knife on him while fighting with Imani.
The altercation took place on 10th of May at the couple's home in Hatfield, Hertfordshire. Real gangster. It was first heard by neighbours, leading to one witness taking phone footage as the rapper came out of his home where he picked up a knife from a bush in his garden before taking it back inside.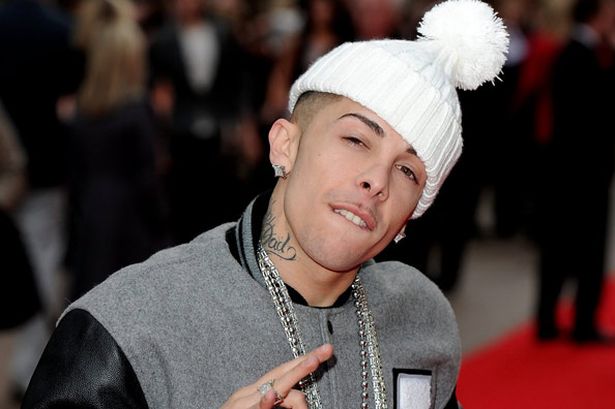 At one point they both made their way out of the house, and then back in, before Dappy then emerged with the butcher's knife, which he pointed at members of the public while making threatening comments. The police turned up shortly after that.
He hasn't actually been charged yet, but it is said that he is likely to get a custodial sentence. Probably should've thought about what he was doing before he went around waving a knife at his girlfriend and neighbours. I mean, he'd just landed himself a decent house, nice partner and he no longer had to perform in N-Dubz. He had it made and all he had to do was not go around waving knives at the general public. I guess some people are just born for the gangster life…
For the time Dappy got the world's worst tattoo on his face, click HERE.