I'm not sure if any of you heard about the cannibal Fratboy Austin Harrouff – last year he broke into the home of a couple, Michelle Mishcon and John Stevens, where he proceeded to attack and kill them.
When the police arrived at the scene, they found Harrouff, 20, crouched over the dead husband in the driveway of their home, eating the victim's face. It was an odd case because Harrouff was a seemingly normal teenager before the attacks – it was suggested at the time that he was high on flakka, but tests have proved this was not the case.
Featured Image VIA
Harrouff pleaded not guilty in November to two counts of first-degree murder, attempted first-degree murder and burglary. Ahead of his court appearance, Harrouff was made to speak to TV psychologist Dr Phil, but now for the first time ever the footage of this interview made its way online.
The 22 minute interview was filmed via video link and in it, Harrouff explains how he lost his wits as he walked back to his father's home after storming out of a restaurant where they had an argument. In the clip below, Harrouff discusses a "devil" like creature named Daniel who stalked him the night of the murders:
You can watch the full interview here:
https://www.youtube.com/watch?v=U0uwjxnVp9w
Apparently Harrouff has no memory of approaching the victim's house. The uni student spent weeks in a coma after the attack and it's thought that he swallowed caustic chemicals found in the garage, although in the video above he says that he wishes not to discuss it.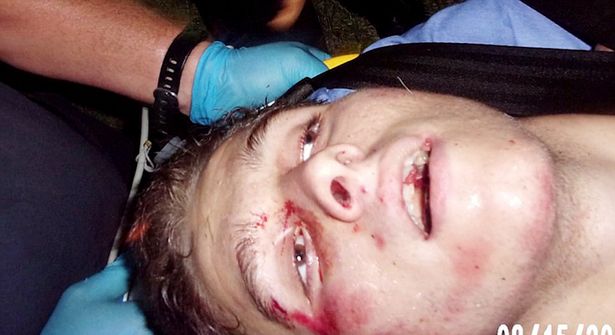 According to reports, Harrouff could face the death penalty if convicted, and as said, he has pleaded not guilty to two counts of first-degree murder. By the sounds of things this kid suffered a severe mental breakdown. He should receive psychological help, not the death penalty. It's just a shocking and tragic event that should never have happened. RIP to the victims. We'll keep you posted with the results of the ongoing trial.