If watching one of your mates kill himself and his wife isn't bad enough, Floyd Mayweather's week has got even worse with the news that a guy called Peter Park is suing him for crashing into the back of his car. That sounds reasonable sure, but the twist is that Floyd wasn't even driving the car at the time and wasn't even anywhere near the incident – he was at the BET awards.
The lawsuit is proceeding though because the car contained Floyd Mayweather's kids and was being chaperoned by one of his drivers – a boxer called J'eon Love who trains at Mayweather's gym in Las Vegas – so Park thinks that he can sue both Mayweather and Love for his injuries. Park alleges that Love was driving like an absolute maniac the day he rear ended him, weaving in and out of traffic at over 100 mph like he was in Ronin or something. He also claims that both he and his passenger were injured as a result of the collision, with his head, neck, collarbone, foot and ankle all suffering.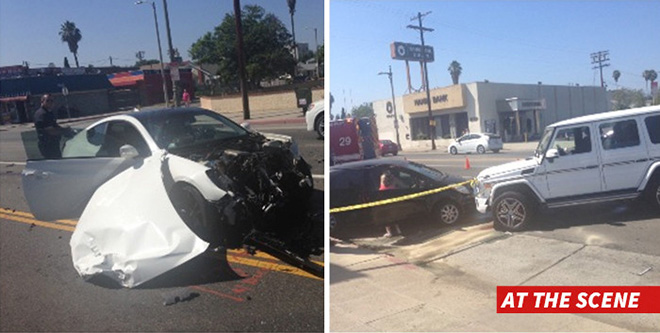 To make the whole incident about ten times more bizarre, Justin Bieber also managed to get involved. It's being said that he was just passing through the area and when he saw the crash he was the first to run over and console the kids. This doesn't really sound like Justin Bieber's regular kind of behaviour considering he's generally being an asshole most of the time, but it doesn't really sound like something that can be made up either. A truly intriguing incident and it will be fascinating to find out how it plays out. Maybe they'll make a movie about it.