We all remember the Mayweather Pacquiao fight back on May 2nd and how it was a monumental disappointment for everyone that stayed up until 7 a.m. to watch it, as Mayweather danced around the ring and won on points like most people who knew anything about boxing predicted he would.
As a result of the victory, Mayweather also added Pacquiao's WBO title to his collection alongside his WBA and WBC championships. Unfortunately though, Mayweather has now been stripped of this WBO title for one of the dumbest reasons ever – he didn't pay the sanctioning fee in time.
Although you and I would probably balk at the size of this fee – a cool £128,000 – the fact is that it's less that 0.1% of the millions that Mayweather earned from the fight, so it really shouldn't have been problem for him or one of his entourage to hand it over to the required authority. As it is though, he's failed to do so and is now no longer in possession of the belt.
Featured Image VIA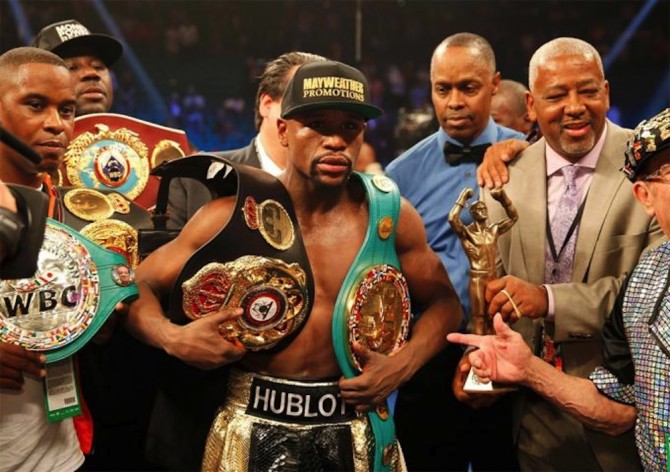 Image VIA
There's a 14 day appeals period but it's apparently highly unlikely that the decision will be reversed, and the belt will instead go to Timothy Bradley JR after his controversial victory over Jessie Vargas last month.
We all know that Floyd Mayweather can't read but even so you would have expected someone on his team to have figured this out and get the relevant money sorted for it. We can only assume that Floyd didn't really give a toss about the belt and only cared about the millions he made from the fight and being known as the greatest of all time, which is why he neglected to sort it out.
Fair enough I suppose – I doubt many people even knew he won the WBO title as part of the fight anyway to be honest. Baller.