What is it about Florida that causes so many people to act batshit crazy? Must be something in the water.
Images VIA
In the latest of a long line of bizarre occurances, a woman has been arrested after she pelted a police officer with a "wet" used tampon, which the police report described as a "deadly weapon."
Tecora Fields, 28, was involved in a fight earlier this week. In the midst of the action, officer Andre Sousa said that the woman told him to "suck her pussy," adding that, "I'll hit you with my tampon you bitch."
Following this, Tecora:
Was then seen with both her hands in her genital area, with her pants open.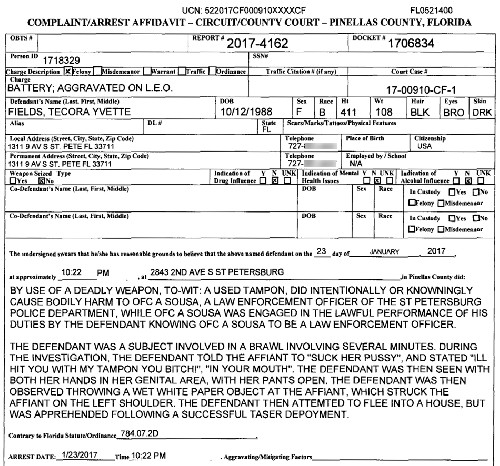 Then the unthinkable happened – she lobbed the used item at the officer, where it landed on his left shoulder. After fleeing to a nearby house, the police caught up with Tecora where she was tasered for her actions before being taken to jail. Fields was released from custody earlier this afternoon after posting a $5000 bond.
Seriously, what kind of grimy bitch throws a used tampon at anyone? Not only is it gross, but it poses all kinds of health risks. Not to mention it must've been a pain in the arse for Tecora herself. You can't be scrambling around looking for a toilet when you're on the run from the police. Think before you throw.
Then again, maybe she just really needed to take it out. If you leave it in for too long, this will happen (NSFL).