I know this might be hard to believe, but the guy with the skull-face tattoo in the image above has been arrested for killing a man.
Featured Image VIA
Randy Petersilge, 51, was already in prison in Pasco County, Florida, for illegal firearm possession. He'd also previously been in trouble for grand theft, burglary and aggravated assault on a police officer. So yeah, just a lovely bloke all round.
Anyway, after doing 42 months for his most recent crime, Randy was free to go. Upon his release however, he was immediately arrested again as he walked out of the prison; this time for an 18-year-old homicide he had committed (the case had been re-opened while he was inside). The guy didn't even make it into his uber before he was arrested again – lol.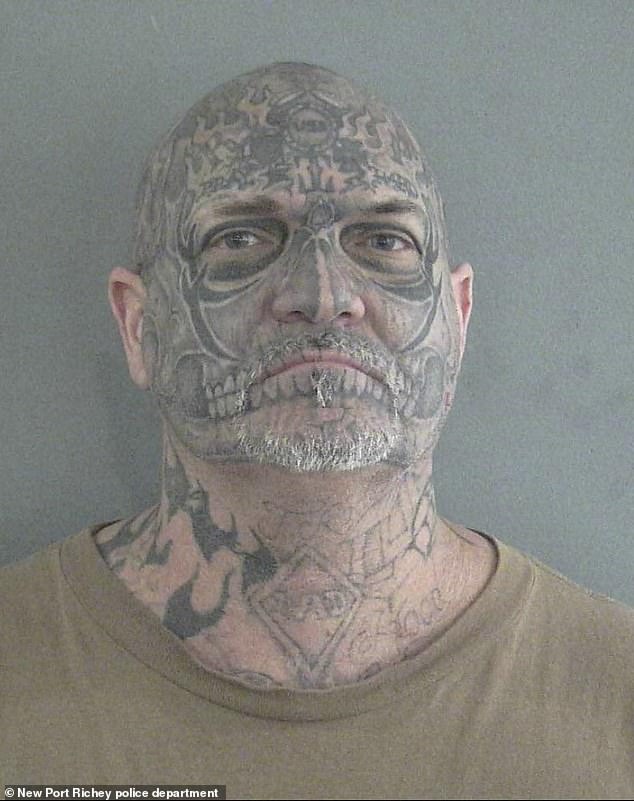 Probably best that they got this guy before he started wreaking havoc on the streets of Florida again, but it might have been nice to let him get some fresh air for 15 minutes or so first. Really have him feel like he's got his freedom back and then just as he's beginning to relax, maybe settling down at the pub for his first post-prison pint, pounce on him with the handcuffs, drag him back to jail and leave him in there forever.
Or is that too harsh?
For the man with the DEVAST8 face tattoo who doesn't understand why no one will employ him, click HERE.