Everyone is caught up with the hype surrounding the new series of Peaky Blinders and nowhere is that more true than Birmingham as the supposed second city of the UK finally has something to put it on the map.
Featured Image VIA 
As such they're milking it as much as possible with the new Peaky Blinder Festival which will take place on the 14th and 15th September in the city's hipster area of Digbeth. The festival will feature music from Primal Scream, Slaves and Mike Skinner (not sure what any of them have to do with Peaky Blinders, other than Mike Skinner being from Birmingham obviously) as well as appearance from the cast, a Q and A with creator Steven Knight and a whole lot more.
Here's the official poster which should give you an idea of what to expect: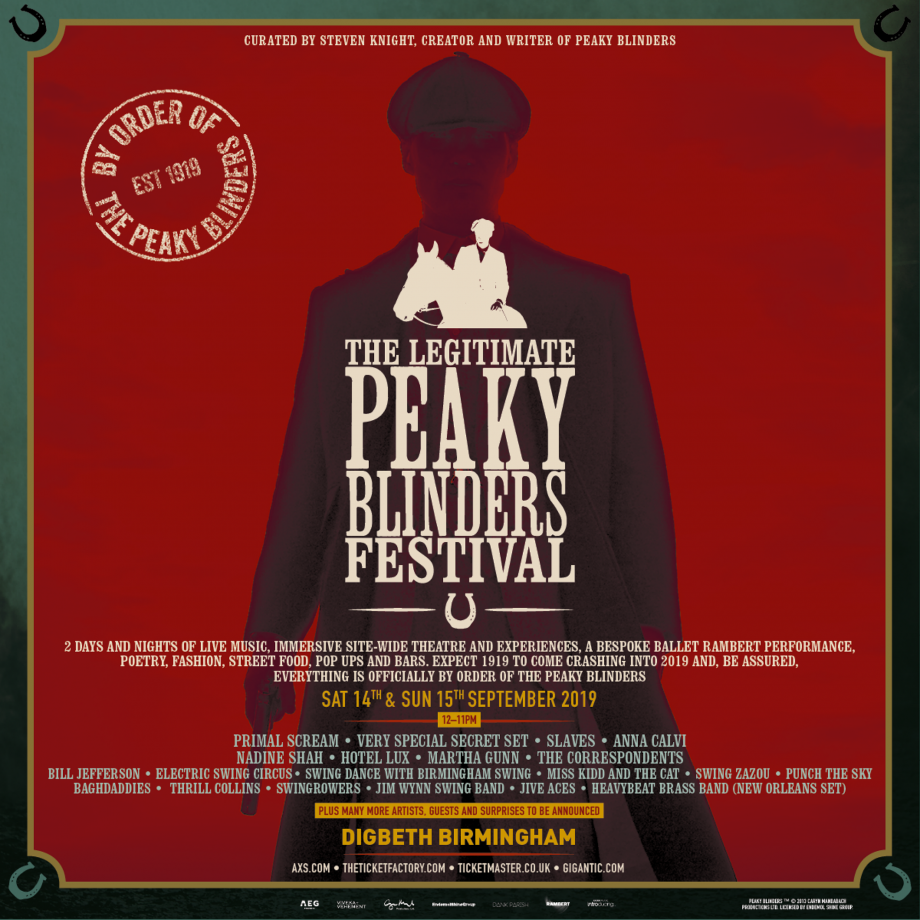 Still not convinced – here's what Steven Knight had to say about the festival:
The most important thing that I wanted to do with this official one was not only to make it the biggest and best, but also to bring it back to Digbeth in Birmingham.

Those streets are the streets where the Peaky Blinders first walked and drank and swaggered. I'm really pleased that we're bringing this back to the roots of what the Peaky Blinders really are.

Ballet Rambert have created a Peaky Blinders ballet that will be performed on the streets and on the main stage.

There's going to be immersive theatre, discussion groups on how the Peaky Blinders lived at the time in comparison to how things are now.

There will be food, a barbershops, tattooists, plus David Beckham's Peaky Blinders clothing line with Kent & Curwen will have a presence there.
I mean I guess that all sounds kinda cool? I mean like the Peaky Blinders don't get me wrong but I'm not sure if I want to spend a weekend dressed up as one going to history discussion groups and listening to Primal Scream – don't think anyone has really listened to them since the year 2000 or something? Not really sure I'm that interested in David Beckham's Peaky Blinders clothing group either, but given how much people buzz off this show I imagine it will probably sell outing minutes.
I think I'm probably going to sit this one out but if you fancy it, tickets go on sale Wednesday at 9am, although the price has yet to be revealed. Hope it's not too much.
For more of the same, check out who Steven Knight has in mind for future series. It's gonna be good.