Lockdown measures are being lifted all over the world, but we shouldn't forget that Coronavirus is still out there and can be contracted  very easily if we're not careful about it.
Images VIA
This stark new warning comes from 40 year old Florida native Erika Crisp, who visited Lynch's Irish Pub in Jacksonville Beach on June 6th and developed Coronavirus symptoms just three days later. Ten of her friends have since tested positive for the virus and another four are waiting for results after showing symptoms.
This was her first night out after the lockdown restrictions were relaxed and just goes to show how easy it can be to catch the virus. A number of other customers who drank at the bar have also tested positive, as well as seven out of the forty nine staff members. What an absolute nightmare.
The spike isn't just limited to Lynch's Irish Pub though, as six bars in northern and central Florida were shut down a week after re-opening following a spike in cases all over the state. They're actually breaking records for new consecutive cases, clocking in at over 2000 a day – higher than the initial outbreak in March. Anyone else think it probably wasn't a good idea to come out of lockdown just yet?
Erika herself insists she followed social distancing rules at the bar, but I'm finding that hard to believe given how easy it is to get pretty sloppy at the bar. Here's what she had to say: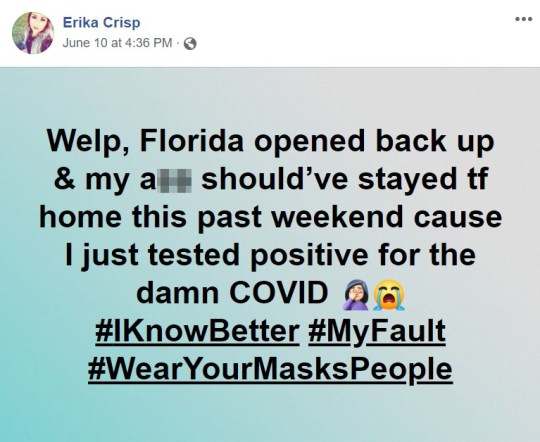 I think we were careless and we went out into a public place when we should not have and we were not wearing masks.

I think we had a whole "out of sight, out of mind" mentality. The state opens back up and said everybody was fine, so we took advantage of that.

We should be wearing masks. We should be social distancing. It was too soon to open everything back up.
Damn straight. Let's hope they get the memo this time and let's hope the same thing doesn't happen over here. Not really that confident though.
For more of the same, check out this woman in New York coughing all over somebody else. That's not gonna help anything.