A feminist-owned and operated vegan cafe that introduced an 18% 'man tax' on male customers will be closing its doors at the end of the month.
Featured Image VIA
'Handsome Her', located in Melbourne, Australia had seen business plummet since introducing the tax (shocker) and will be closing for good on April 28
According to the owners, the fact they are shutting down proves their point about 'fragile masculinity'. Lol:
When we opened Handsome Her in 2017, we expected that perhaps we might make a stir through our brazen public discussions of structural inequality and oppression. The man tax blew up the internet, an idea that we didn't think was all too radical, yet the way the world responded showed us how fragile masculinity is and solidified the necessity for us to confront and dismantle patriarchy.
The cafe sparked controversy in 2017 after instituting anti-patriarchal "house rules" designed to hit back at sexism. A chalkboard in the cafe read:
House Rules, Rule #1: women have priority seating. Rule #2: men will be charged an 18% premium to reflect the gender pay gap (2016) which is donated to a women's service. Rule #3 respect goes both ways.
Doesn't rule #3 contradict Rule #1 and #2? Whoops.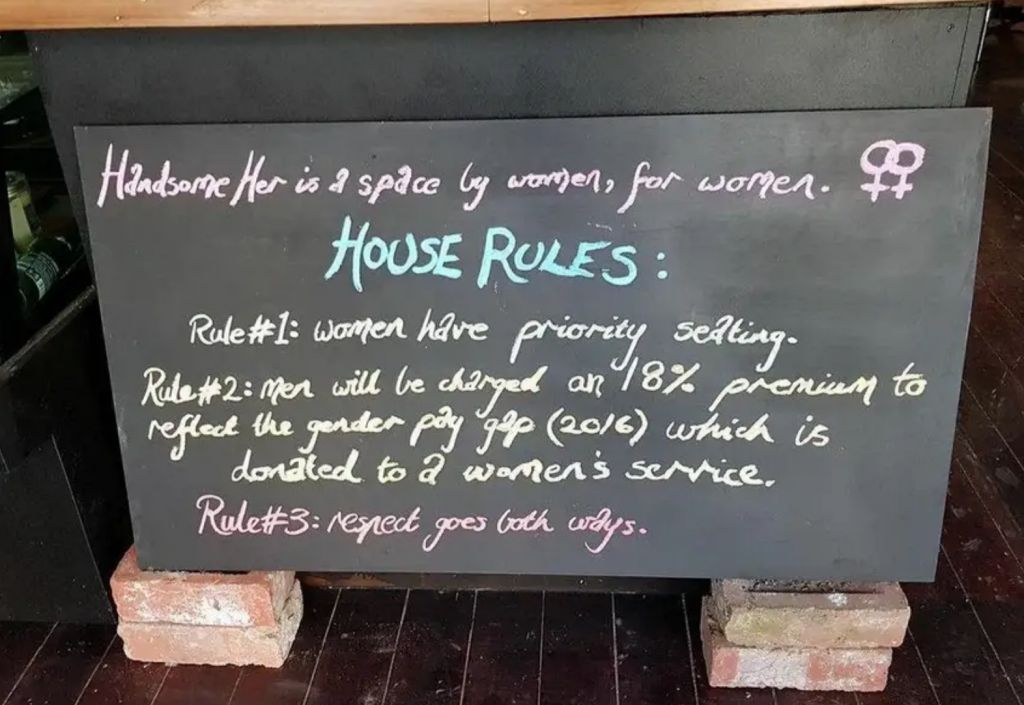 I wonder what would have happened if a man walked into this cafe and told them he identified as a woman. That would have put them in a pickle for sure.
Whatever the case it's pretty amazing that they didn't realise a 'man tax' marketing ploy would backfire in their faces like this. I mean that might actually be the dumbest business idea in history. And then to turn around and blame their business tanking on men is just completely ridiculous. No one wants to pay 18% more for their coffee or food and especially not due to the fact they have a penis.  
So maybe 'Handsome Her' shutting down isn't due to fragile masculinity but rather that they're terrible at running their business. Just a thought.
For the vegan woman who was denied a passport because she was 'too annoying', click HERE.