When it comes to fast food, you know what you're getting. It might not be fine dining and the service is not top quality, but that's the deal when it comes to fast, cheap grub.
Nevertheless, for some city dwellers, McDonald's and Wetherspoons is about as top notch as it gets. And when their service dwindles or is a cut above the rest, they feel the only appropriate course of action is to leave a review.
Not that we're complaining – the appraisals left by customers are pure comedy gold, which is why we're back with another round up of our favourite crappy reviews from fast food hotspots.
Today our restaurant (used loosely) of choice is DFC (Dixy Fried Chicken) in Leytonstone, London. Expect some top notch analysis and justified complaints:

That's not how you use punctuation

Cheers for that little tidbit

OOO

Bold statement

TMI

Piss off

Good to know

Friend chicken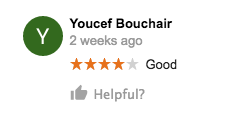 Short and sweet

You can't beat a good looking fried chicken server

I dread to think what he considers to be "unhealthy"

Happy customer

Ali, you've really got a way with words

You need flavourings when eating DFC

Family man
Congratulations East London, you've done us proud. This week my personal favourite has to be Ali Shariff with his "yeah they sell good shit". Talk about speaking your brain.
For last week's instalment of our favourite crappy fast food reviews, click HERE.