It's finally happened – someone has made a food combination hybrid that is way too much for the average person to deal with.
Images VIA
The dish is a fast food birthday cake and it's the brainchild of a guy called Milton Lai from Sydney, Australia. He's decided to whip up a combo cake using items from his three favourite fast food restaurants; McDonald's, Domino's and KFC.
Milton reckons it costs about £70 to make and feeds around 10 people. It also looks completely and utterly insane – Milton takes you through making it with these photographs.
First, use a Domino's Pizza as a base.
Secondly, stack up a bunch of Chicken McNuggets on the crust of the pizza and then whack a whole pile of McDonald's fries in the pit you've created.
Top that with another pizza and a bunch of double cheeseburgers from McDonald's.
After this, add another pizza on top of that and whack the KFC chicken pieces on top of that, before adding the finishing touch of gravy on the top. Mmmmmm.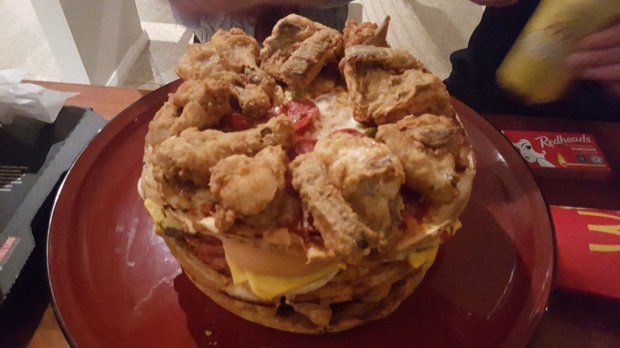 Milton also has some rules for making it and has claimed that it's been pretty well received by everyone he's made it for so far:
The cake has got to hold itself together without props, must slice nicely and be eaten as a slice and not pulled apart.

You need to make sure that the chicken wings align nicely with the pizza slices themselves.

They're supposed to be a kind of garnish – 'the cherry on the top' – due to the fact that they have bones.

Overall, it was a success in my eyes and everyone else's eyes – and stomachs.

I'd like to leave this out there for inspiration for others to top, with improved heights and grander designs.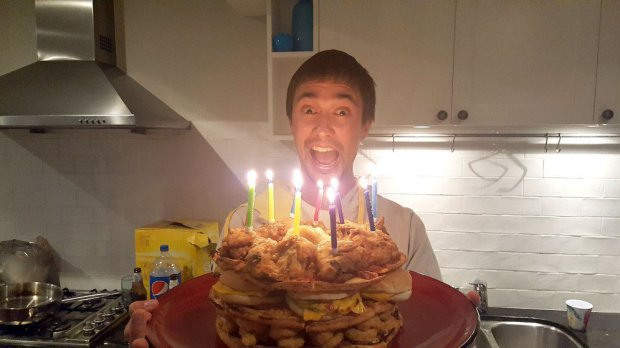 Got all that? I personally think it looks kinda gross and don't think I would even be able to eat one slice of it these days, but if I was back at uni then I probably would have been all over it. Probably would have been in heaven if I was seven years old too. It just looks like too much these days though – if anyone wants to make one and send it to us though, I'll give it a go sure.
For more insane food creations, check out the pizzaburger. Nothing compared to this but still pretty insane.