A viral TikTok couple have kicked up a storm on the platform this week after revealing they are in fact step-siblings who are dating.
Diana Camila Avila and Jordie Vena say they met six years ago through their parents and started dating in 2017 after realising they were attracted to each other.
Under the joint account alphafamilia, the couple, from Canada, have racked up 600,000+ followers with videos of them kissing, role-playing and acting out different trends.
Like a recreation of their first kiss at 'sibling movie night', for example:
Opinion online has been split…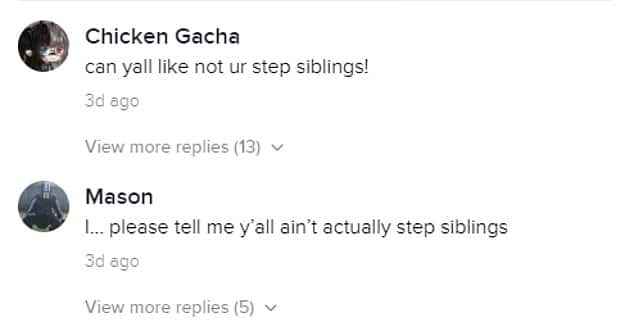 The question is – if you're not blood related, does it count as incest? I think technically not although it's still pretty weird. The wildest part is that they're happy to rub their relationship in everyone's faces and it seems to be working a treat because their TikTok channel is blowing up massively. So there's clearly a market for step sibling lovers out there (as if we didn't already know that – cheers Pornhub).
Wonder what their parents make of it all?
What if it was the other way round and their parents met through them dating and got married? Would that be more or less weird? Either way, more power to these totally legally related lovebirds, that's what I say. Good for them! After all, they're step-siblings, not womb-sharing or nutsack-sharing siblings. Christmas lunch will be a little awkward, at most. Otherwise, let your freak flags fly!
Speaking of which, it was only a couple months back that MotoGP star Miguel Oliviera spoke out on his secret relationship with his step sister. Guess it's more common than we think.