Following this morning's tragic attack against Parisian Satirical magazine Charlie Hebdo, leaving 12 dead and 5 seriously wounded, condemnation of the incident has been total and widespread.
Well known as a publication that often makes some fairly risqué jokes, Charlie Hebdo has been the subject of Islamist attacks in the recent past, with their offices being burnt out by petrol bombs back in 2011.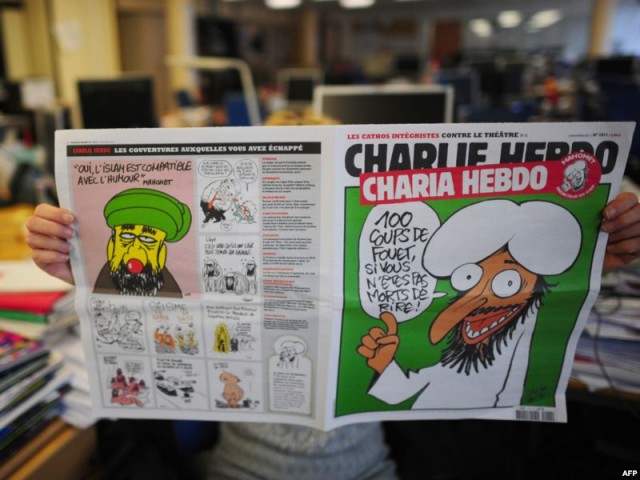 The roots of these grievances are several cartoons lampooning the Prophet Muhammed and Islam in general, as well as comments by the magazine claiming that the aforementioned Prophet featured as guest-editor for their issue that followed the 2011 attack, which was particularly inflammatory in Islamic terms.
#CharlieHebdo #france #Prophet #Islam #victory #AQAP pic.twitter.com/bvSWBQucYn

– Al Muwahideen Media (@muwahideenmedia) January 7, 2015
Whilst reprisal attacks against publications that choose to mock Muhammed are nothing new, the openly supportive stance of several pro-ISIS twitter accounts are a rather fresh addition to an already shocking incident.
Meaning: "Kill/mock anyone, but when it comes to the prophet of Allah we will not tolerate it." – أبو إسماعيل (@ShamiAnalyst) January 7, 2015
Whilst it might be true that these men knew the risks, it is prudent to remember that murder as an attempt to subdue freedom of expression is quite literally an attack against a core value of Western society. Without getting too nationalistic, I'm sure I'm not alone in finding it deeply disturbing that such attacks are a possibility at all.
The attack on #CharlieHebdo could have been avoided if they'd stopped creating Anti-Islam cartoons after many warnings!

– Truth-Seeker (@HaqqqqSeeker) January 7, 2015
With this being said, it is always utterly vital to remember that such attacks are always the doing of a minority extremist group, and that tarring all of one religion with the same brush will lead to nothing but alienation and greater radicalization.
May Allah swt reward our brothers in France who are real men, fear & love Allah swt, who have gheera and took revenge for the Ummah. #IS

– Abu Dujana (@AbuHeadshot) January 7, 2015
Given the already difficult stance of Islam in the West, with open suspicion against Muslims a common fact of life, the attack on Charlie Hebdo couldn't come at a worse time. With groups like Britain First already enjoying quite worrying amounts of support, its all too easy for average citizens to get taken in and lump all Muslims in together, the great majority of whom go about their business just like everyone else. With Right Wing groups well-known for their interpretive ideas of justice, how long before we start to see panic and reprisals against ordinary Muslim citizens?
I hope the Prime Minister takes this time to remind the populace at large that three men perpetrated the atrocity in Paris today, and three men are by no means a majority.