Eurovision was steeped in controversy (again) on Saturday after it looked like the winners from Italy Maneskin were snorting cocaine at their table during the victory celebrations when a video appeared to show the lead singer doing exactly that, but apparently it's now been confirmed that they weren't doing anything of the kind.
Featured Image VIA
Lead singer David Darmiano has passed a drug test and Eurovision themselves have released the following statement: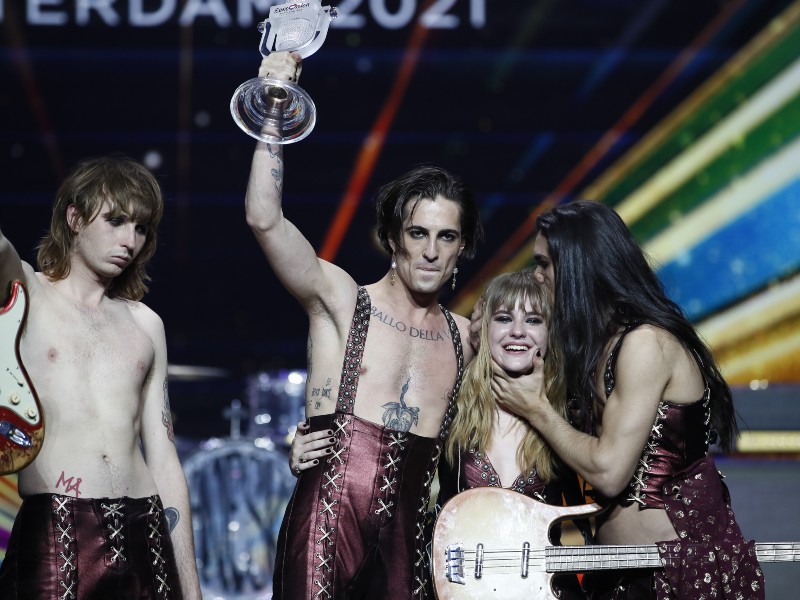 Following allegations of drug use in the Green Room of the Eurovision Song Contest Grand Final on Saturday 22 May, the European Broadcasting Union (EBU), as requested by the Italian delegation, has conducted a thorough review of the facts, including checking all available footage.

A drug test was also voluntarily undertaken earlier today by the lead singer of the band Måneskin which has returned a negative result seen by the EBU.

No drug use took place in the Green Room and we consider the matter closed.

We are alarmed that inaccurate speculation leading to fake news has overshadowed the spirit and the outcome of the event and unfairly affected the band.

We wish to congratulate Måneskin once again and wish them huge success. We look forward to working with our Italian member Rai on producing a spectacular Eurovision Song Contest in Italy next year.
Meh. I suppose that sets a good example to all the kids who tuned into Eurovision, but I think everyone knows that it just makes Maneskin look even lamer than than they already appeared during their performance over the weekend. They're meant to be a rock and roll band FFS, get on the blow. Losers.
For more of the same, check out how the UK entry is taking his nil points result. Better than you might think.