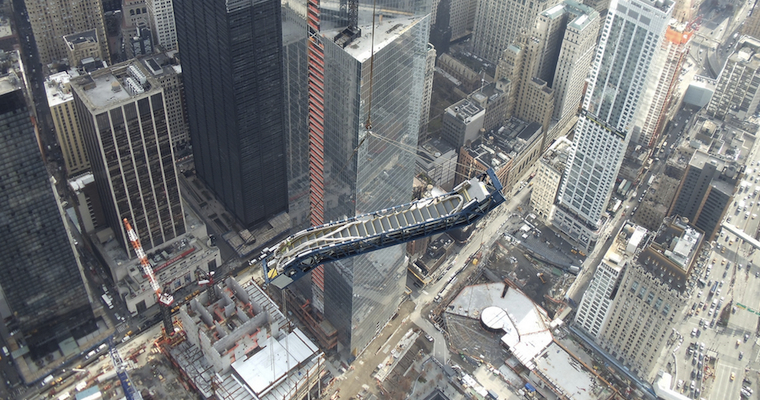 So yeah, everyone knows about skyscrapers and how cool they are, but I never really ever though about how they would place important necessities like escalators and elevators inside these buildings. I guess I kinda thought that they probably just inserted them as they  were building them from the bottom up or whatever, but like I said it wasn't really something that had ever crossed my mind at all. It turns out that in skyscraper construction now, escalators actually get hoisted up from ground level to the very top of the building before they insert it wherever they want it to go, as you can see from these awesome photos of an escalator being hoisted to the top of the One World Trade Center that is currently being constructed in New York City.
I can't even begin to comprehend how they figured out how to do this but I guess it has something to do with really good engineers or something but the pictures are completely mindblowing and kind of remind me of the end of the Avengers movie where all those creatures that look kind of like giant escalators are flying around New York City destroying everything,except for the fact that they're just suspended above the city rather than flying around destroying everything. The pictures are awesome.
The ThyssenKrup elevator team used a humongous crane to hoist them up to the 101st floor of the One World Trade Center and will shortly install them. There are going to be 11 escalators installed in the building and 74 elevators and the escalators are going to be the fastest elevators in the western hemisphere which is pretty exciting huh? Anyway until the building is finished and you can go and try out how fast they are just enjoy how utterly mindblowing these pictures are:
☛ More: Amazing UFO Ghost Town Resort In Taiwan
☛ More: A Bunch Of Real Pictures From Hurricane Sandy 
☛ More: Ever Wonder What The Inside Of An Amazon Warehouse Looks Like?