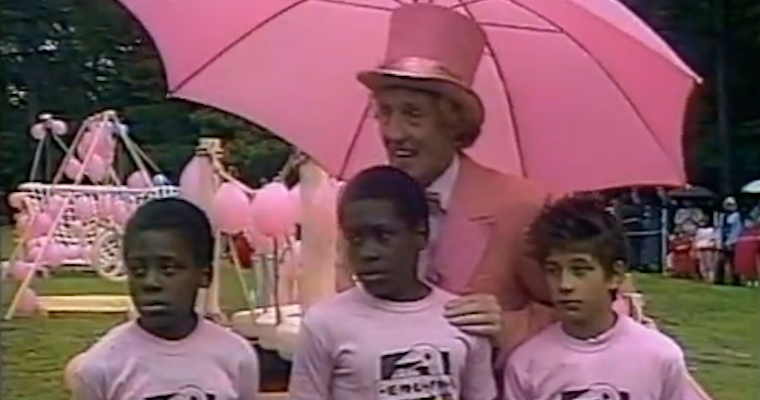 It's fair to say that here at Sick Chirpse, Emile Heskey is somewhat of a favourite. We were one of the first sites to post about the fact that the Newcastle Jets had sold out of Heskey shirts following his arrival a couple of weeks ago and we've been posting stupid videos and stories about him ever since the site first started. But this could very well be the stupidest video of him ever.
Footage has emerged today of a young Emile Heskey appearing on the Rod Hull and Emu show in the late 80's. I don't really remember the Rod Hull and Emu show that well from when I was a kid – I think it was dying out by the time I was watching children's television – but I do remember it mainly revolved around Rod Hull and his massive hand puppet Emu talking to each other and Emu pecking him and stuff. I don't really remember what they did on the show though. From the look of this clip though it looks like they got teams of little kids to run obstacle courses. That can't be the whole show I guess but it looks like a big part of it. And guess what?
That's right! Emile Heskey is one of the little kids who's running the obstacle course. Although it hasn't been 100% confirmed that the kid is Emile Heskey, the fact that it looks exactly like him and his name is Emile and he's from Leicester pretty much makes it a shoe in. Emile, or Emily as Rod Hull and another presenter frequently call him (Geez don't they know that they're talking to a future goal machine and England international legend there!? Have some respect guy), and his buddies are up against some losers from Nottingham on an obstacle course. Emile absolutely smashes the obstacle course as you would expect of a man of his stature and then reveals that he's giving all his winnings to a Bible group in Leicester. Even at the age of 10, what a hero.
Check out the video below:
[yframe url='http://www.youtube.com/watch?v=RzIUu8ORbzY']
More Emile Heskey below:
Aussie Football Club Newcastle Jets Sell Out Of Heskey Shirts