There have always been rumblings in the entertainment industry that Ellen DeGeneres is an asshole who treats her employees like shit, despite being portrayed as something of an American sweetheart.
Featured Image VIA
Well it turns out the $90-million-a-year presenter isn't much of a sweetheart after all, as revealed by a Twitter thread that has gone up where people are sharing stories about Ellen treating them like dirt.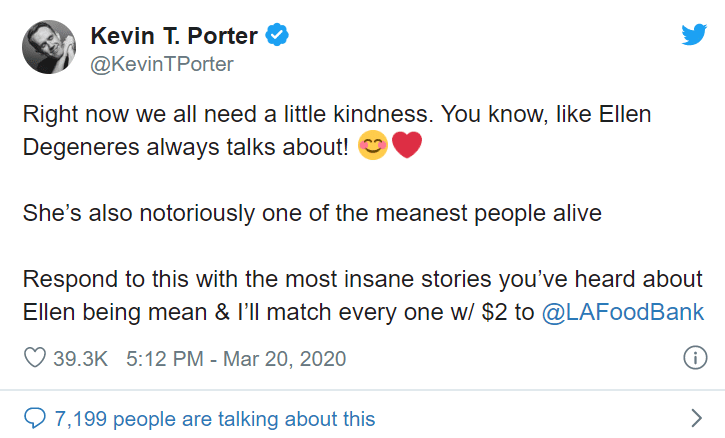 This dude Tweeted three days ago, and the responses are STILL rolling in. Obviously there's no way of telling if all the stories are true, but why would these people lie? They're all part of the entertainment industry and so it wouldn't really make sense to shit on a big-timer like Ellen for no reason.
Here's some of what they had to say:
Karen Kilgariff was her head writer for 5 years until the writers' strike. When Karen wouldn't cross the picket line she was fired and Ellen never spoke to her again.

— J. Fisher (always a fish, sometimes a dinosaur) (@elpez3) March 20, 2020
My friend wrote for the Ellen Show for two years and told me Ellen didn't greet her once. In fact, upon employment, staff were told they weren't allowed to talk to her.

— Cathy Messier (@cathytown) March 20, 2020
Was wrking on a show @ WB that was next to her stage. Was our showrunner's 50th Bday. Caterer grilling steaks outside for special fancy lunch. Ellen sent someone over to demand they stop, as she doesn't eat meat. She's the worst.

— Alison Freer ✂️ (@AlisonVFreer) March 20, 2020
There was that time she bullied Mariah Carey into admitting she was pregnanthttps://t.co/Lp2d2aD0JI

— JimmyP (@JimmyP215) March 20, 2020
Some friends who work /worked on her show said many of her staff members weren't allowed to be in the same room as her!

Queen of Social Distancing! Ahead of her time! ✨

— Quarantine Baranski (@MatthewKBegbie) March 20, 2020
Hoo boy, I have a few:

A friend of mine told me about a custodian she knew who was fired bc he was slightly autistic and forgot he wasn't allowed to look at or speak to her, and he loved greeting everyone.

— Josh Levesque (@JoshBLevesque) March 20, 2020
Another friend of mine was a PA on her show and when Russell Brand came into the employee break area to chat with the crew and hang out, Ellen came in and got mad at him – saying he didn't have to interact with these people, that's why guests have their own area backstage.

— Josh Levesque (@JoshBLevesque) March 20, 2020
A) She has a "sensitive nose" so everyone must chew gum from a bowl outside her office before talking to her and if she thinks you smell that day you have to go home and shower.

— Benjamin Siemon (@BenjaminJS) March 20, 2020
B) A new staff member was told "every day she picks someone different to really hate. It's not your fault, just suck it up for the day and she'll be mean to someone else the next day. They didn't believe it but it ended up being entirely true.

— Benjamin Siemon (@BenjaminJS) March 20, 2020
C) When she's in a bad mood staff members were highly encouraged by upper management to go into her office and do bits to cheer her up.

— Benjamin Siemon (@BenjaminJS) March 20, 2020
D) She cares about animals which is good but so sensitive for example if someone tried to show her a funny viral video and way in the distance a barely audible dog is barking she'll scream at you and say "CAN'T YOU HEAR THAT ANIMAL IS IN DISTRESS?!! WHY DID YOU SHOW ME THIS!?

— Benjamin Siemon (@BenjaminJS) March 20, 2020
And E) If she doesn't like the monologue someone wrote that day, she'll drop it on the floor and say "I'm not saying one word of this."

— Benjamin Siemon (@BenjaminJS) March 20, 2020
Lastly F) Someone wrote a joke with the phrase "it's like pulling a rabbit out of a hat" and she screamed at them "DO YOU KNOW HOW PAINFUL THAT WOULD BE TO THE RABBIT!?!"

— Benjamin Siemon (@BenjaminJS) March 20, 2020
Kathy Griffin said that when Joan Rivers died, Ellen staunchly refused to do a tribute to her because her comedy (and Kathy's) were "the wrong kind," too mean-spirited. We love a pious comic.

— Brett Ashley Hawkins (@muchbrettah) March 20, 2020
Comic I know became friendly with her, said she openly expressed her deep disdain for her audience and her own show – resents it all!

— Chase Mitchell (@ChaseMit) March 20, 2020
I can't vouch for anything being "real" if it didn't happen to me, but this is as close as I can get:

My friend who worked at Real Food Daily says Ellen came in and dined and when she saw her server had a chipped nail, Ellen called management and tried to get her fired.

— Carrie "St. Patrick's Day" Poppy (@CarriePoppyYES) March 20, 2020
And on and on it goes. Just non-stop stories of Ellen mistreating people or being an utter dick to them. Again, it's up to you to decide if you believe these stories but I don't think they're too far-fetched. After all this is a woman who has been rich, famous and powerful for so long that she can afford to treat everyone like shit and get away with it.
I'm not just saying this but I always had a feeling she was a bit of a knob ever since that video went viral of her shaming an audience member for taking an extra item from the Ellen merchandise store after she instructed they could only take one. Obviously the audience member should have played by the rules, but the way she called her out and humiliated her in front of everyone was just so… unnecessary:
Just noticed she turned the comments off on that video as well! Says it all really.
For more weird celebrities, get a load of Madonna's coronavirus rant in the bathtub last night. Is she actually OK?