Great Britain's short-track superstar, Elise Christie, has been disqualified from all 3 of her short track disciplines this Olympics each being under very debatable circumstances. Never has there been such an ill-starred blade runner in an Olympic Games after not only her bitter disappointment on track, but the psychological trauma of vicious online abuse that has come with it.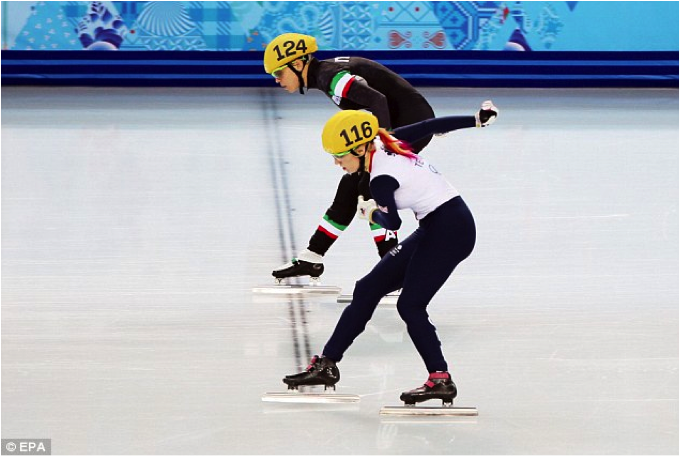 Christie was a major medal contender for team GB having beaten all 4 of the finalists in the 1000m in the previous year. "I got disqualified today for the opposite reason to what I got disqualified for in the 500m. Every single member of Team GB is astonished", she said after being disqualified for the third time in 9 days.
"I'm really trying to hold myself together for Britain because I don't want to be known for crying on camera", said the speedster, who had broken down in tears after her two previous calamities.
The first disqualification came in the 500m short-track final but she was deemed to have caused a collision which caused 3 of them to crash with a bold move up the inside of the Korean skater. Despite taking the silver after the crash it was swiftly taken away as it was judged that she went for a gap which wasn't there.
The second disqualification happened in the 1500m heat as she was ruled not to have finished after skating inside the track when crossing the finish line. Even though third place was nowhere to be seen and qualification for the next round seemed guaranteed. The innocuous mistake by Christie paved the way for the upcoming 1000m race, her forte.
Her final penalty was perhaps the most bewildering one ending her Olympics in the Iceberg Skating Palace with the sort of misfortune that has dogged her for the fortnight. She was taken out by the Chinese skater who had tried to go for a gap which wasn't there, so when the 'PEN' was displayed next to her name it encapsulated  one of the most poignant Olympic stories of all time.
Without a doubt Elise Christie has now officially been crowned as the unluckiest athlete in the Sochi Winter Olympics.