El Chapo is one of the most notorious drug lords of recent times, but he might not be with us for much longer if his wife and and lawyer are to be believed, due to the inhumane conditions that he's currently living under in his prison cell at Juarez.
Images VIA
Emma Coronel and José Refugio Rodríguez have filed a motion with the National Human Rights Commission stating the following:
The prison is inflicting irreparable psychological damage on Joaquin (El Chapo's real name).

The cruel conditions could kill him or make him go crazy before the end of the year.

He is being held in a prison cell where the lights are kept on 24 hours a day and his only contact with humans is masked guards. They do not let him sleep.

He is having hallucinations and memory loss and feels like he is going to die.

He doesn't know when is day and when is night. He lives in constant anguish.

They have also deprived Joaquin of his sex life, cutting the time we are allowed to spend together from four hours to two. It's unacceptable.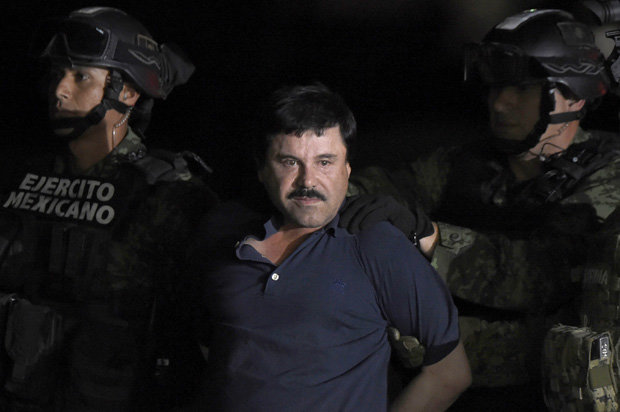 Well, that certainly sounds terrible, although I'm not sure why she bothered bringing up the sex issue because surely two hours is enough time to get your end off and be satisfied? Especially if you've been in prison for a while – he's probably going to blow his load pretty much straight away.
Anyway, whilst I'm not going to condone torture, you've got to kind of understand why Chapo is being kept in these conditions considering he's already managed to escape three maximum security prisons. It would seem like the only option is to keep him disorientated to prevent him from escaping. There's also a lot of debate about whether the conditions are actually a reality, with many thinking that it's just another delaying tactic to prevent El Chapo being extradited to the U.S. where he'll have less chance of escaping.
Either way, I doubt this is the last we'll have heard of El Chapo. I can't really see him dying though and it's probably more likely that he'll end up escaping before the end of the year. Wait and see.
To understand what an absolute badass Chapo is, check out this video of a judge who sent him to prison getting murdered in broad daylight. Even in jail he's completely dangerous.