Grime legend/perpetual troublemaker Wiley took to Twitter last week to announce 'the war has started' as he branded both Drake and Ed Sheeran 'pagans' and the '2 worst culture vultures on the planet'.
Featured Image VIA
In fact he had a bit of a meltdown over it: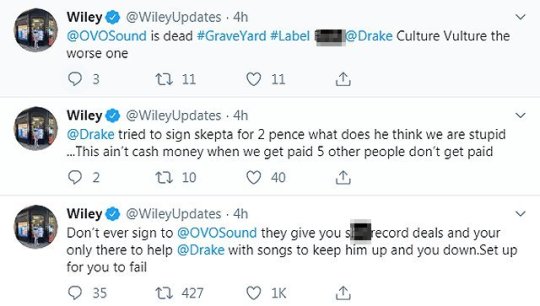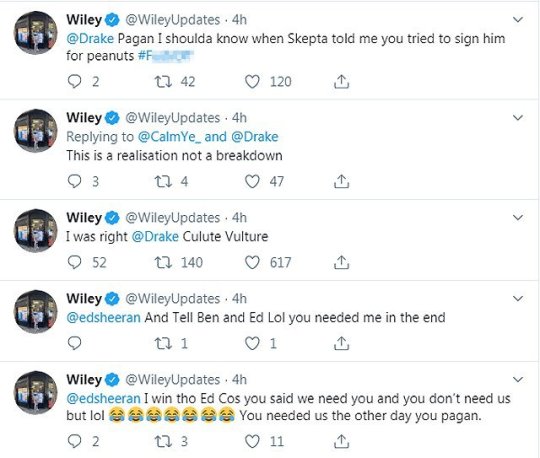 That's no way to make friends, is it? Sounding like a bitter old-timer if you ask me.
Anyway, as per NME, a disappointed Ed Sheeran has now broken his silence on the matter, addressing Wiley with this statement on social media:
Dear Wiley, Just wanna clear a few things up.

I never said no to doing a song for you after we made 'You' for no.5. You wanted to release 'if I could' the same week as my debut single on a major label and I merely asked if you could move to a week before or a week after, which you did, the song came out, and I'm still very proud of it [sic].

I've said yes to 90% of the features I've been personally asked for, unless I've been on a break or I haven't known the artist personally. The only time I can think of that I didn't let my name get featured on a song that I was on, was on Chip's league of my own part 2, he asked me to sing backing vocals, which [I] did, and I didn't feel comfortable being a featured artist when I hadn't written or performed properly on the song.

You need me I don't need you I wrote when I was 15, and definitely isn't about anything other than teenage angst.

You know I have a deep love and respect for the scene, and for you. I look forward to godfather 2, excited to hear it.

This is the last [I'll] say on this.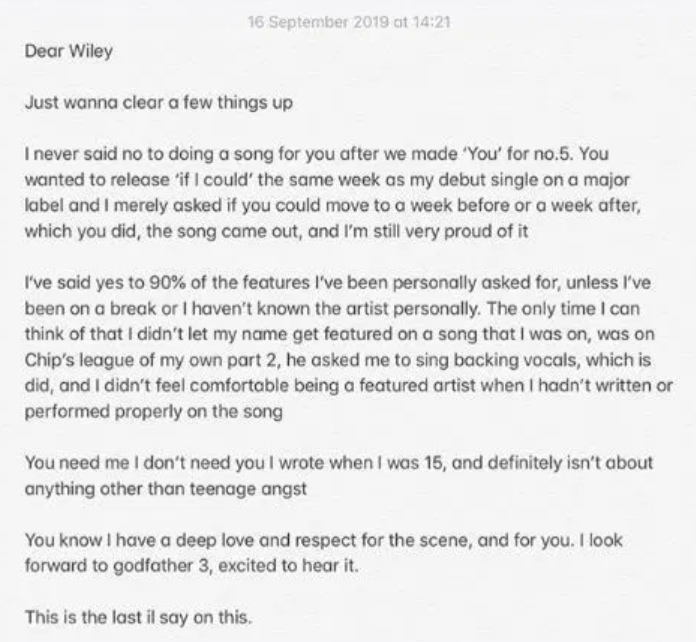 I think he might have just given Wiley the attention he was craving with that one.
Meanwhile, Stormzy came to Ed Sheeran's defence, advising Wiley to back off:
No Wiley you know Ed been doing this from early, been a real one from early, can't question that.

You know I love you and respect you brother but nah don't do that.
Stormzy then dropped this video last night which he says is a homage to Wiley (sounded a bit like a diss to me at first listen):
It wasn't that long ago that Wiley tried to drag Giggs into his beef with Drake, which ended with Giggs having a go at him on Twitter. Come on Wiley, as your old mate Dizzee used to say – fix up, look sharp.