So it turns out the assailant in the downtown Orlando fight video we posted the other day wasn't actually the real Easter Bunny, but rather a guy dressed as the Easter Bunny who got caught up in the melee. 
Featured Image VIA
Here's the video if you missed it:
There's also this other clip where he's having the time of his life humping twerking revellers over Easter weekend, plus alternate angles of the brawl that followed:
Well it now transpires the man in the suit, 20-year-old Antoine McDonald, is wanted in connection with a carjacking in New Jersey last year.
Antoine had been taking up jobs where he dresses up in costume – pretty smart for someone who's trying to keep anonymous – but after the video went viral Antoine completely lost his head and started talking to media outlets like TMZ and even created an Instagram page (badbunnyof19) to try and capitalise on his newfound internet fame.
So he's basically shot himself in the foot big time. Police say Antoine has also previously been arrested after being accused of committing 2 armed robberies in the space of 12 hours.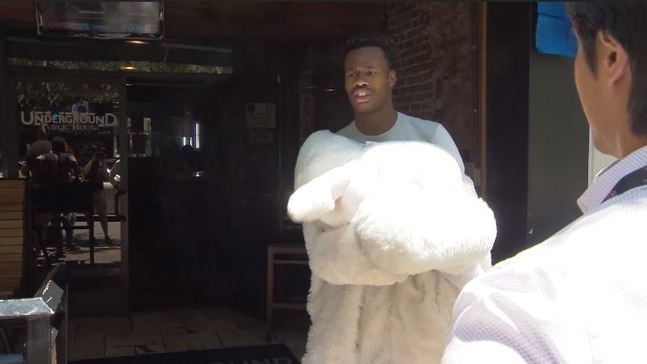 I think what Antoine will learn from this is that when you are wanted by police for a history of violent crimes, it's probably best to keep low-key and stay well away from the spotlight. Just keep your head down and get on with life without succumbing to the temptation of becoming a viral internet phenomemon. Still, it was a pretty great disguise while it lasted.
Speaking of disguises, get a load of this guy's amazing camouflage trick for getting away from police. Brilliant.