Popular FIFA streamer 'Kurt0411' has been handed a lifetime ban from EA from all its games and services after he wouldn't stop being abusive and harassing the company, its employees and also his in-game opponents (naturally).
Featured Image VIA
It's not easy to get given a lifetime ban from EA especially when you're the second biggest FIFA streamer in the world, so just how much of a dick was Kurt0411 exactly? Well for one thing he released this diss track about them called 'Little Rats':
He also repeatedly spit on their logo back in November (he was initially banned for that, but the ban was lifted, until he kept on acting like a dick):
This is the VOD that Kurt got banned for, I am all for freedom of speech but this is disgusting behaviour. How are you going to spit on the logo of a company that you want to be a professional esports athlete for. I know I am going to get stick for this but he deserves the ban. pic.twitter.com/oJmlifBFLU

— DrJarba (@JarbaFifa) November 1, 2019
Pure disrespect throwing in those DX crotch chops, let alone spitting on the logo. What a way to treat the company that you've basically used to build your entire following/gaming career off. I'm not even too sure what his problem with EA is exactly? I've heard a lot of people saying FIFA 20 is 'broken' and has a bunch of issues so I'm guessing that came into play and is why he's so annoyed at drawing 2-2.
Well EA have shut him down for good with this ban and released this statement on how Kurt0411 'crossed a line of decency into very personal attacks and breached Terms of Service':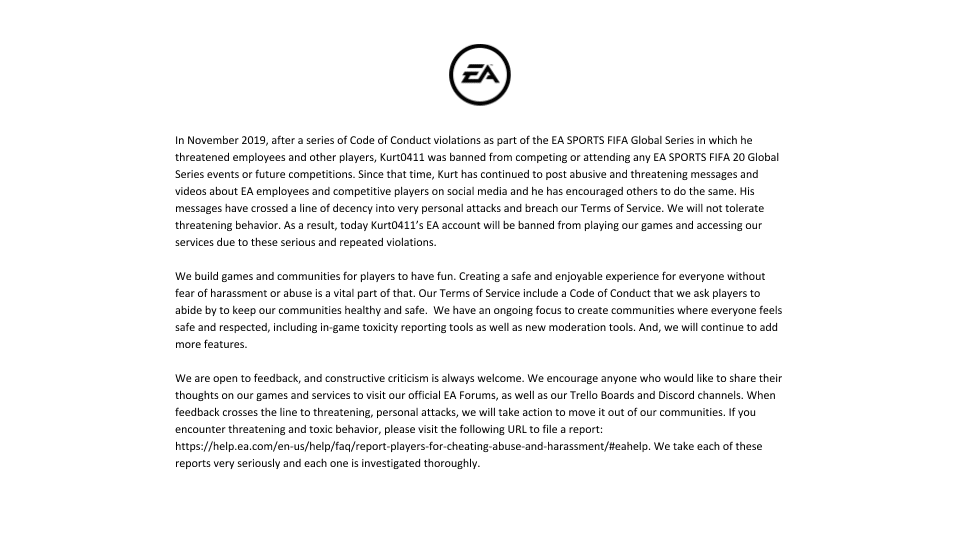 Hilariously, Kurt is doubling down and not apologising for his behaviour at all:
"No one enjoys playing it" sums it up pretty nicely. What are you going to do now? Ban him as well? They've done everything this year but look at themselves and admit they fucked it. They killed their game and their "esport" https://t.co/v1g0RI89XU

— Kurt (@Kurt0411Fifa) February 22, 2020
End of the day I have never said anything I shouldn't have. This is just deeper than anyone thinks. They didn't want me competing at events cos they were scared I'd win them, now I'm the 2nd biggest streamer of their game and they're scared I'll overtake their golden boy

— Kurt (@Kurt0411Fifa) February 24, 2020
Not sure banning him is the right move as it will probably just bring more attention to the fact that FIFA 20 has a bunch of issues, but then millions of people are already playing the game so I doubt it will affect them too much.
What I can't wrap my head around is how such a big time gaming streamer has such a weak gaming handle. 'Kurt0411'? Seriously couldn't think of anything better? Come on now.
For the FIFA players who are suing EA Sports for getting crap players in their Ultimate Team packs, click HERE. Wonder how much Kurt spent opening his? Lol.