We brought you news that Screech had been involved in a stabbing incident in a bar fight on Christmas day at the Grand Avenue Saloon in his current home town of Port Washington in Milwaukee. At the time, it was said that Dustin Diamond got angry when a couple of fans tried to take a picture with him but he refused and they got violent, leading to him stabbing one of them with a switchblade knife he had on him as he tried to defend himself.
This still seems to be the story that everyone is sticking with but Ozaukee County Judge Paul Malloy has ruled that there is enough evidence for them to pursue charges against Screech. He's being hit with reckless endangerment and two other charges after the judge heard police testimony about the incident and reviewed security footage of the incident on the Grand Avenue Saloon's CCTV feed, which clearly show him stabbing the man.
For what it's worth, Diamond was carrying a pocket knife not a switch blade and claims that he accidentally stabbed the man whilst trying to defend himself and his fiancee (who I'm sure you'll agree is a stone cold fox with those blue streaks in her hair) after he was pushed by one of the guys. The guy himself said he didn't even know he had been stabbed until he saw blood on his shirt. He's being treated for the 'minor' wound and is recovering nicely.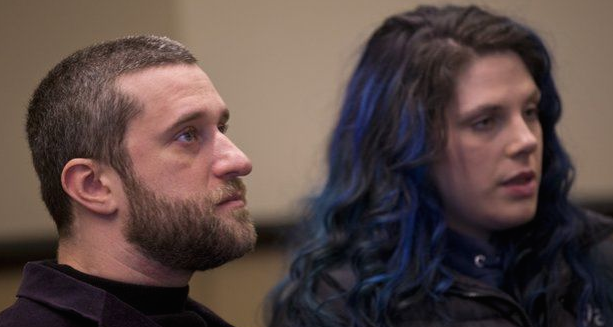 It sounds like a pretty soft incident that's being blown out of all proportion due to Diamond's celebrity status, but I guess that comes with the territory. It's kind of weird that he carries knives around with him though and he definitely shouldn't have stabbed the guy if he didn't want things to get out of hand. It looks like things are going from bad to worse for Diamond but hey, when growing up is as messed up as behind the scenes of Saved By The Bell sounds you can't really be that surprised with how he turned out.
Bizarrely, Screech's people have asked that he be allowed to travel throughout the United States and internationally to fulfil acting engagements whilst he's on bail in the lead up to his trial. The judge granted the request for domestic travel but not international travel which I find somewhat unbelievable because surely Diamond hasn't acted anywhere since he finally stopped playing Screech in 2000 in one of those lame new versions of Saved By The Bell (except for that sex tape of course) so surely it's completely and utterly false that he would need to travel to act? Get it together judge.