There aren't many things that a typical English guy loves more than his children, but it turns out that one of them very might be a pint of lager and packet of crisps. Who would have thought?
Featured Image VIA 
The incident went down in Leeds a few weeks ago, when the unnamed man reacted to his partner having a go at him for urinating in the family sink after a few beers (understandable) by becoming abusive and violent. She fled the flat and called the police, which caused the man to brandish a large kitchen knife and barricade himself inside and not let his children leave.
Prosecutor, Bashir Ahmed said the following about the case:
When police arrived he made threats towards them (the police) that he would slit their throats and burn the house down.

The officers tried their utmost to reason and calm him down through the course of about three hours during which time the children were effectively locked in the house.

The defendant spat at officers and threw a lager can at them and urinated at them or towards them.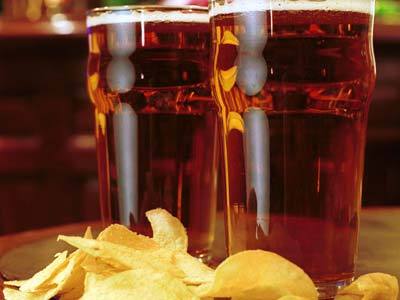 At one point he brandished a large kitchen knife and a cut-throat razor.

He was seen spraying lighter fluid on the front door while making threats to turn the gas on and burn the house down.

Specially trained officers were eventually able to calm him down. He only allowed the children to leave once officers had brought him cans of lager and crisps.
The man was jailed for three years and nine months, with the judge telling him that it said it all that he bartered his family's safety for a packet of lager and crisps. Kinda agree to be honest. Guy seems pretty troubled though anyway as he already had convictions for dishonesty and violence. Not sure if four years in the slammer is going to do anything to help him, but hey we'll see I guess.
For more of the same, check out the Tesco flavour of crisps that totally insulted the world a couple of years back. Hope they're not still in existence.