A Florida woman arrested on a drunk & disorderly charge claims the only reason police were called while she was at a hotel pool was that the manager saw her in a bikini and was "jealous that her body looked good," reports News 6 WKMG.
Featured Image VIA
The manager at the Country Inn & Suites spotted 42-year-old Melody Carr in her two-piece swimsuit at the hotel's pool and since she didn't recall her ever checking into the hotel, asked her for her room number.
Carr became irate and refused to disclose her room number, so the manager called police who say she became "verbally aggressive" and accused the hotel manager of being jealous of her MILF body.
Carr then jumped a fence to get to her white convertible Mustang and burned the tires as she pulled into a parking spot. In fact the vehicle was stopped by the parking bumper because Carr couldn't brake fast enough.
At that point police confronted her again and noticed she had alcohol on her breath as she started yelling at them, leading to her arrest.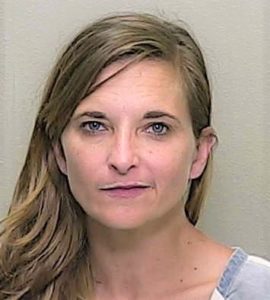 Unfortunately there are no images of Melody out there confirming her body looked too good in a bikini, so we'll have to take her word for it. Who even knew you could be body shamed for having a body that looks too good? That's a next level type of discrimination right there. Melody's only crime (if we ignore driving while drunk, trespassing and being drunk & disorderly) was looking incredible in a bikini, and instead of being celebrated for that she had to endure the wrath of a jealous hotel manager.
What society needs is more people standing up for the rights of women like Melody whose amazing bikini bodies mean they should be able to legally dip into any hotel swimming pool they wish without a reservation. Glad to do our part on that front. Go Melody Go!
To watch a Florida security guard demolish a crew of white boys who kept dropping N-bombs, click HERE.