Over in Australia in a town that might have one of the best names for a hick town ever – Broome – a 27 year old man has been charged with no authority to drive and failure to restrain a child after he used the seat belts in his car to secure crates of beer rather than his children. There were multiple children in the vehicle – including a baby else than a year old – were left in the laps of adults and in the wheel well.
Featured Image VIA 
Kimberley District Superintendent Allan Adam said he wasn't really surprised by the incident though:
We do have problems up here in the Kimberley.

It shows some of the attitudes of some of our road users in the way they see their priorities.

We are doing our best to stamp it out through enforcement but we are also about to embark on public education, which is obviously needed in remote communities.

This is the third traffic action we've had at that location with significant amounts of alcohol being conveyed along that route.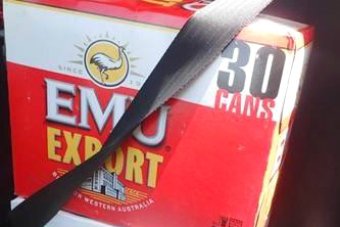 We think people are selling mass amounts to the aborigines, who traditional live in dry settlements.

We've also got some serious concerns around the number of people that are driving on suspended licences and also not restraining themselves and their passengers.

And unfortunately on a large number of occasions those passengers are kids.
I suppose if you're transporting beer for sale then it probably is more of a priority that they don't get smashed rather than your kids' safety, right? Wrong actually I think, surely nothing is more important than the safety of your kids? Why even bring them along on the trip in the first place, surely there would be even more space for crates of beer to sell if they weren't even there? And you've got less chance of being charged with a felony too. Guy sounds like a fucking moron.
For more morons, check out this guy hanging out in a cage with three giant snakes. Guess how that works out for him.