26-year-old Quin Woodward Pu — who runs a terrible personal blog here — got let down by a guy she went on TWO dates with and tried to shame him on her blog. It's kind of backfired on her though as anyone can see that actually — the man did nothing wrong and was in fact a complete gent.
Here's what Quin Woodward Pu wrote on her blog:
It all started two weeks ago, when I met some rando at a bar. He was friendly enough, but annoyingly and sloppily drunk, which is why I offered my email address when he asked for my number. We emailed later that weekend, and I met up for a few drinks, which eventually turned to dinner, and then champagne. We had relatively good chemistry, but then, I kinda have chemistry with pretty much everyone, because I really like talking to people and winning over complete strangers…
I invited him to my birthday party, which I'm holding this weekend for my closest 125 friends…When we parted that day, I didn't think much of anything. In fact, I actually headed out to a bar to meet up with a former lover from 2012, with whom I may or may not entertain a few exchanges here and there. #timesbeing.
So imagine my surprise—which quickly turned to fury—when I received the following text out of the blue yesterday. FYI I have done absolutely no editing on this conversation; the previous dialogue is from Saturday night when he told me not to dress up (I haven't dressed down since 2k5), and I jokingly asked if I shouldn't wear my ball gown.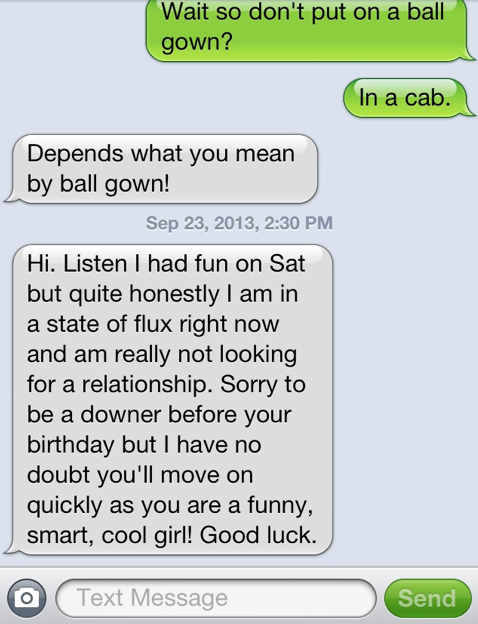 Anything wrong with that text? I don't think so. He's only met her twice, has had a change of heart, and has actually sent a very gentleman-ly message letting her know. Aren't we always banging on about how people should be honest with each other?
Here is what the dude got in response: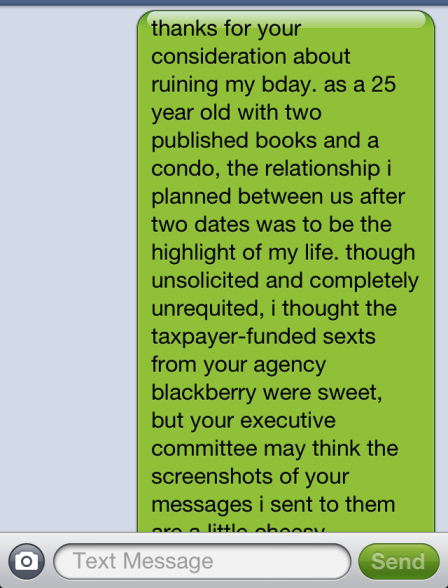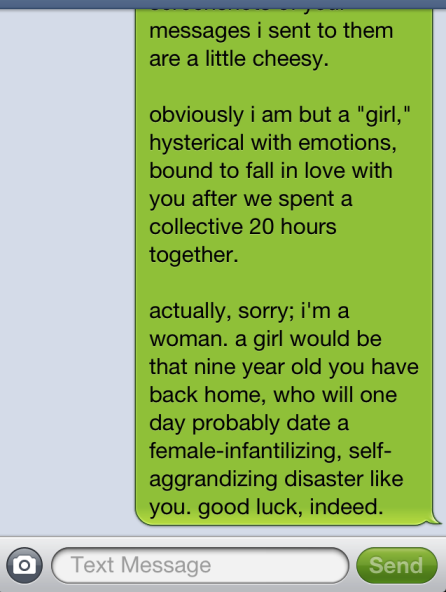 How's that for mature? Big up your publishing deals and the properties you own, threaten the man's job and cuss his unborn daughter. Nice. I'm sure this woman thought she was going to come out of this as some kind of feminist champion but turns out everyone just thinks she's an overdramatic idiot.
☛ Next: Dude Sends Dick Pic To Girl On Dating App, She Forwards It To His Mum