I don't know much about Drake, except that he has never seen Sean Connery in perhaps one of the greatest James Bond films ever made, You Only Live Twice. YOLT. But that didn't stop me from finding this Tumblr very funny. It contains all the things that Drake partakes in that mark him out as a soft man, which are apparently numerous, and from it, I got the impression that Drake is a cuddly type of guy. I decided to investigate further to find out if there is any truth to these allegations, and a quick look on the Internet confirmed his marshmallow credentials — his real name is Aubrey.
He was raised by his mother in the affluent Jewish suburb of Forest Hill, Toronto, but this doesn't mean young Aubrey had an easy life growing up; in true ghetto style they only had half of a house:
"[His mother] found us a half of a house we could live in… I lived in the basement, my mom lived on the first floor. It was not big, it was not luxurious. It was what we could afford."
Sounds structurally dangerous yet economically sound. As well as this, he was forced to slum it by finding work as an actor on Canadian television — every hood-rats favourite source of income — and is keen to reiterate how little he got paid for this:
"We were very poor, like broke. The only money I had coming in was off of Canadian TV, which isn't that much money when you break it down." 
I just broke it down in my head and I feel for you, Aubrey. Times must have been hard. However, being the absolute soldier that he is this didn't stop him from enjoying a full range of life experiences, and he went through several rights of passage that I'm sure most people in the ghetto can relate to:
"I was on a TV show, I went to art school, I went to hood schools. I've lived. I've lived a full 24 years man."
☛ More Drake:
Watch Drake Doing Shots From His Grammy
Video Of Drake Getting Denied From The Miami Heat's Locker Room
Drake & Rihanna Sample Jamie XX & Gil Scott Heron
That doesn't sound like it should take a full 24 years to do, but fair play on going to art school yo. And the final nail in the electric pink coffin:
"Drake's sound is labelled as "soft" for his genuine, merciful lyrics and soulful melody to most hip hop listeners. He denied this by saying "I'm not soft. I'm just not one of those people who's closed off emotionally."
At least he is in touch with his candy-coated, fluffy kitten-esque emotional spectrum.
So he's a nice, friendly guy. Fair play. I'm not going to hate on him too much, but these people are: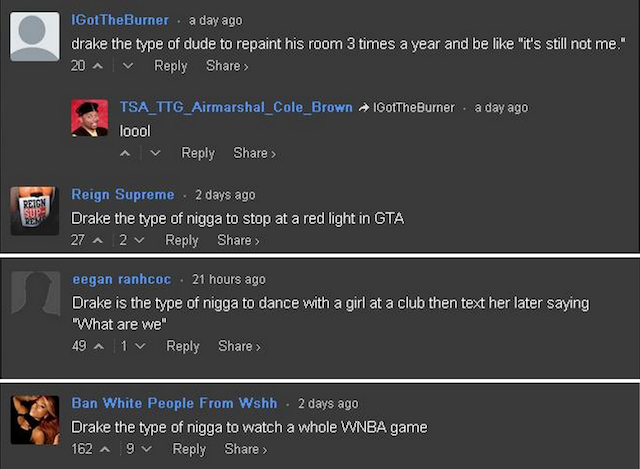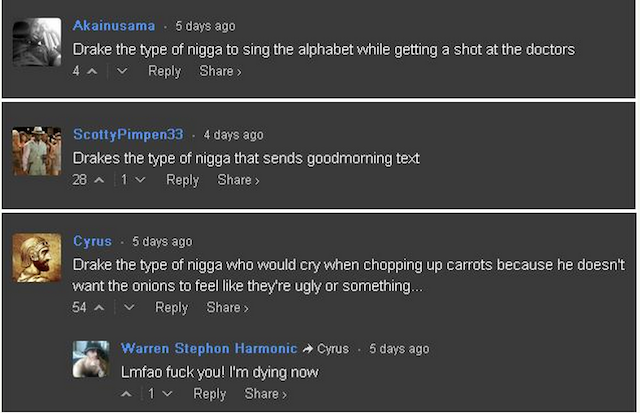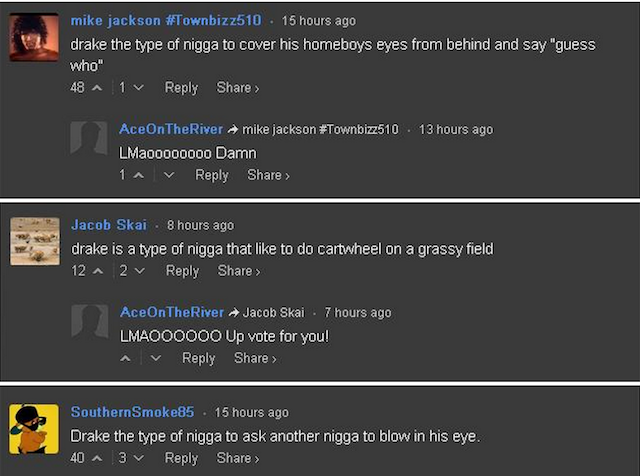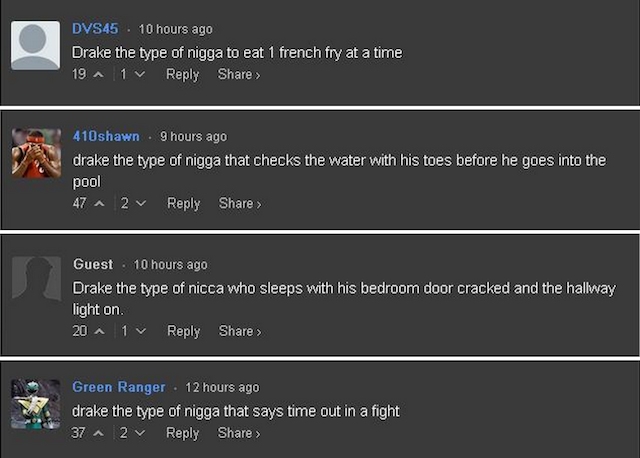 More here: http://drakethetypeofniggathat.tumblr.com/