Lil Wayne has confessed in a book proposal which he's shopping round to different publishers that his former protégé Drake visited him while he was in prison to tell him that he was sleeping with his girlfriend.
Featured Image VIA
Wayne was locked up for 8 months in New York's Rikers Island for gun possession, and wrote:
This is the type of shit that a man never wants to find out when he's locked up. Or, maybe so, cause only God knows what I would have done if I wasn't locked up right now.
The whole thing sent him into depression:
I woke up feeling fucked up about the fucked up day that I had … finding out that she fucked Drake was the absolute worst thing I could've ever found out. As a man, honestly, that shitt hurt … and not because it was Drake, it could have been any man. It would've hurt the same.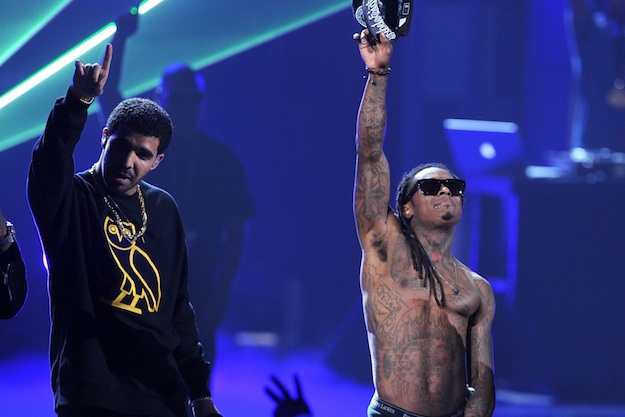 Image VIA
Bit of a difficult situation for Wayne, besides the obvious fuckerie of his friend sleeping with his girlfriend and telling him about it while he's behind bars, Drake is one of the biggest music stars on the planet right now while Wayne has kind of fallen off the wagon. Does he go after him, cut ties with him, or keep him sweet so that Drake might help keep his music relevant? Conundrum city indeed.
Either way, complete dick move by Drake. He does seem the kind of person who would do that though. Must have been brutal for Wayne especially as he had a solid visual to work with thanks to this Instragram groupie and the story she sold about hooking up Drake. Nice.