As we all know, Drake is the master of getting a girl's clothes off. But now he's trying to be the master of putting them back on as well.
Featured Image VIA
The rapper is in the process of adding a women's line to his clothing brand, which operates as an offspring of his record label, OVO. The pieces have supposedly been (at least to some extent) designed and handpicked by Drizzy himself, and he's just posted the highlights to his Instagram.
Presumably following in the footsteps of Yeezy's fashion exploits, Drake dropped his male clothing a while ago, but these latest women's additions have been long-awaited and are just in time for Christmas.
The line consists mainly of loungewear (AKA OVO branded tracksuits), so that your girl can now dress like the most decadent of roadmen. Every item in the line is seemingly intended to be the realisation of the sort of clothes you'd imagine a girl in one of his songs to be wearing. Very much the 'sweatpants hair tied, chilling with no makeup on, that's when you're the prettiest' sort of vibe. While a running theme of black on black and the occasional addition of his trademark golden owl on the breast pocket keeps things simple and minimalist.
Now I'm far from a fashion blogger, but I had a scroll through the OVO Instagram and I actually think the majority of the stuff isn't too bad. Certainly an improvement on the efforts that Kanye has made, anyway.
And obviously, with it being Drake, he was going to throw a pair of booty hugging leggings into the mix.
What's the betting he ChampagnePapi'd all over that ass, though?
And Drizzy isn't the only celebrity trying to make waves in the fashion community in time for the festive period, with Katy Perry creating a range of Christmas themed onesies in collaboration with online retailer Beloved. A project which they've imaginatively entitled 'Katy Perry x Beloved Belovsie'.
If there's one thing that could make me feel more sick than a celebrity trying to increase their already overflowing bank balance by exploiting the naivety of their pre-pubescent fans (because who else is going to buy a onesie from Katy Perry, really?) it's going to be that name. 'Belovsie'. Fuck off Perry you wonderfully voluptuous dick.
Also, I'm pretty sure her and Drake have been corroborating behind the scenes and have launched a combined effort to dominate the fashion industry over Christmas, because this looks a hell of a lot like the rapper in one of the promo shots for Perry's onesies: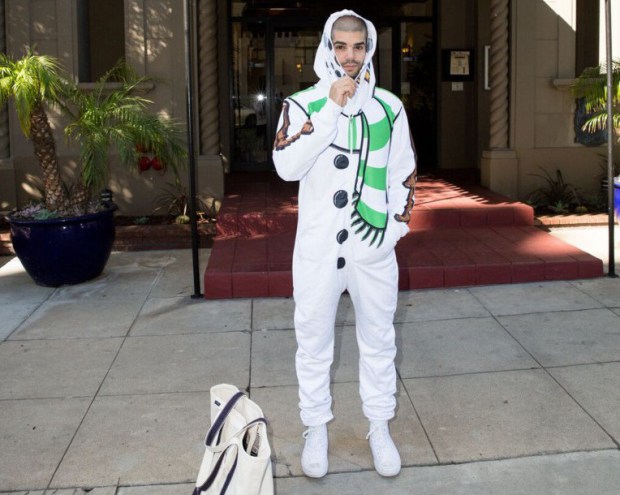 Image VIA
Hopefully it'll be destined for the same fate as her bra and someone will ban the stupid collection ASAP.