Drake was forced to cut short his surprise headliner performance at Tyler The Creator's Camp Flog Gnaw Festival on the weekend after facing non-stop boos from the audience.
Featured Image VIA
As per the LA Times, other acts like Brockhampton, H.E.R, YG and ASAP Rocky performed without any issues, so why the hate for Drake who is meant to be one of the most popular rappers on the planet?
Camp Flog Gnaw boo'd Drake off the stage 🤯🤯🤯😳 pic.twitter.com/zPxdNKCTUw

— VERSACEBOYENT (@versaceboyent2) November 11, 2019
Camp Flog Gnaw cussed Drake off stage, never been so proud. Frank will never perform here. #campfloggnaw2019 #drake pic.twitter.com/najOVvEq0I

— sf (@abathingfroman) November 11, 2019
Well turns out there's only one reason why everyone at the festival booed Drake as the secret headliner – because they were expecting Frank Ocean. That's it. A bunch of teens attended the festival thinking that obviously Tyler The Creator's longtime music partner and fellow Odd Future member Frank Ocean would perform but instead they got Drake.
Again, this is weird because Drake has tons of bangers that you would think a rap/R&B crowd would appreciate. But then I guess Tyler and whoever else organised the show just learnt that when you get Drake on your show you should probably advertise it ahead of time so that the audience is filled with Drake fans instead of Frank Ocean fans.
As it was every member of Odd Future was at the event except Frank Ocean, which is why the crowd was so bummed out when they realised he wasn't turning up at all. Pretty funny that all this time and effort and secrecy went into booking Drake and in the end he turns up and everyone shits all over it. Tough break.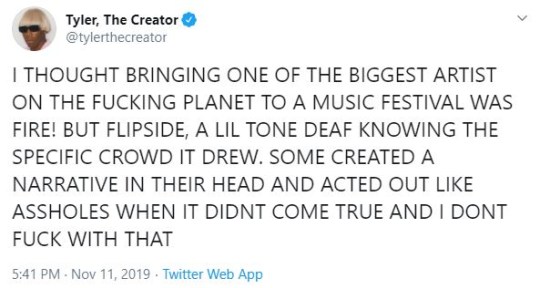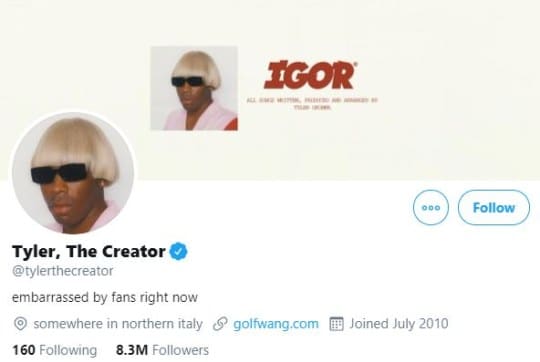 Should bring the Canadian rapper crashing back down to Earth – especially after he got this 'disrespectful' Beatles tattoo on his arm.