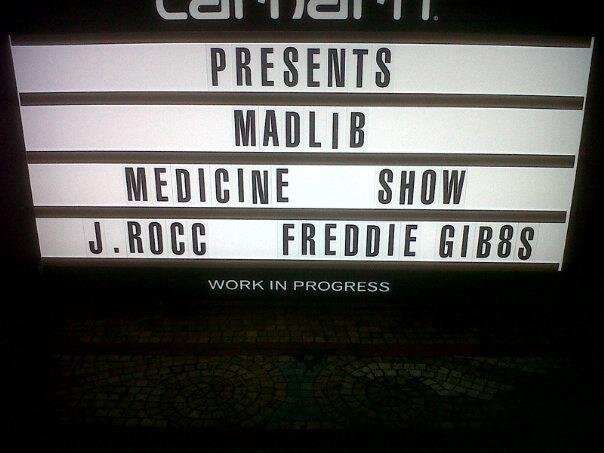 MF DOOM/MADLIB ft. FREDDIE GIBBS/J. ROCC/JNEIRO JANEL/DELS/JEHST/KUTMAH/ILLUM SPHERE
12th OCTOBER 2012
HMV FORUM – KENTISH TOWN 
There is a kind of electricity one notices when watching big acts such as DOOM and Madlib; two sparks who, at the mere mention of the name dazzle an entire audience, without the need for a fancy light show or a big stage explosion.
As per every DOOM gig, speculation is rife as to whether it will be the real DOOM who plays or an imposter, but all doubts were cast aside when the shimmer of the mask crept on stage and the seemingly endless, vacuous stage was lit up by the larger than life Villain.
DOOM reeled off classics from his infinite catalogue, and as the loop of Accordion began, Madlib peered over from behind the masked MC and peppered adlibs innovatively and unexpectedly, forming the backdrop to the scene. DOOM's signature off-beat flow was highlighted by tongue in cheek stresses and emphasis on lazily improvised lyrics and although the performance was slightly boozy, this merely added to the impromptu style of the rap DOOM has become so synonymous with.
DOOM has a way of imposing his worth on you. As you watch you are aware that this is a man who's music is not only genre defining but receives a worldwide cult following. This is a man who is known the world over as a pioneer in his field. He does not seek your acceptance. He is, after all, the Vaudeville Villain and such apathy with the bad guy shows in his presence onstage.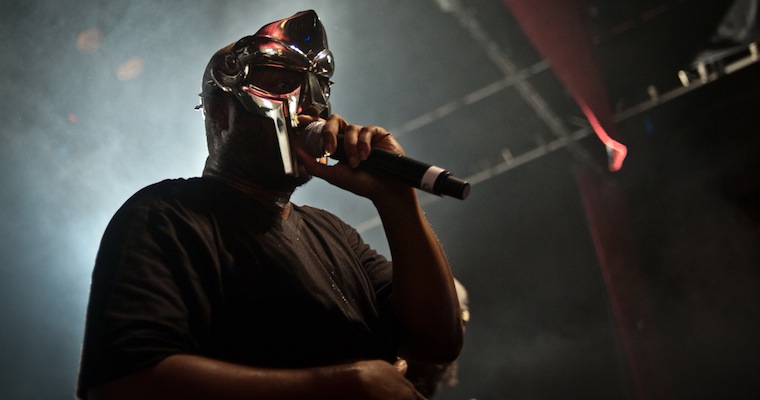 The show was originally billed as MF Doom + friends, however, you get the feeling that the man of the hour isn't the man in the mask. Above the decks a huge mural that depicts in gold capitals the name Madlib, is draped from the ceiling. Despite the hype though, we're left feeling pretty disappointed as he butchers records with excessive beat mashing and cutting that leaves a lot to the imagination and maybe requiring a mind more "open" than mine to enjoy…
Receiving support from Jehst, Kutmah, Dels, J. Rocc and Stones Throw newbie Freddie Gibbs, this show is like the hip hop shows of old: two decks, one microphone and no interruptions.
Kutmah's set fell perfectly into what I would hereby like to be called the Stones Throw school of DJing. A heterogeneous set list compiled from genres as far reaching as synthetic trip-hop to bouncy 160bpm juke to warm, crackly soul all effortlessly cut and mixed in that classic b-boy style.
☛ More: Sick Chirpse Birthday Party!
To finish the night J.Rocc and Freddie Gibbs surprised most as they wowed the crowd with truly awesome technical ability both on the mic and decks. A natural prowess and confidence poured from the rapper as he interspersed every tune with a round of 'fvck police!' and asked members of the crowd for tokes on their spliffs.  Freddie Gibbs' tamed ferocity was showcased in short bursts of acapellas between beats and struck chords with Mos Def aurally as well as reminding me of a younger Tupac when he rapped topless.
J. Rocc treated the audience to a beat junkie's take on the British music scene. Atmospheric synths impossibly blended in to that old favourite of ours 'I Luv U' by Mr. Rascal and back in to silky, heavyweight dub plates. The mixing was seamless and tunes always unexpected. The night was rounded off with a few hip hop greats and some Brit classics. And as the lights came up J. Rocc, unabashed by the rapturous applause, flourished the set with a master class in turntablism.