Donald Trump might be the most most powerful man in the world – well he legitimately probably is – but this doesn't stop the fact that most people think he's an idiot and he regularly does dumb stuff to perpetuate this opinion.
Featured Image VIA
Latest on this long line of ridiculous behaviour is the time he met Christian Bale. Bale was being interviewed by Variety and decided to talk about the time he met Trump in Trump Tower when he was filming The Dark Knight Rises back in 2011. He revealed that Trump invited him up to his office and the pair had quite a weird interaction: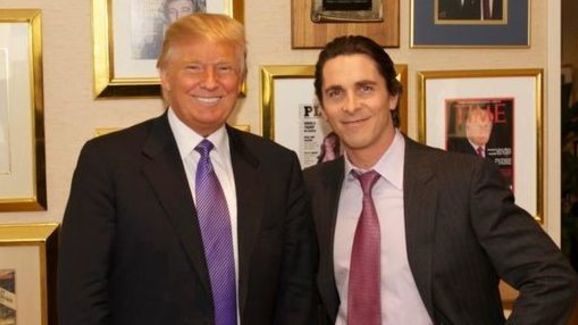 I met him, one time. We were filming on 'Batman' in Trump Tower and he said, come on up to the office.

I think he thought I was Bruce Wayne because I was dressed as Bruce Wayne.

So he talked to me like I was Bruce Wayne and I just went along with it, really. It was quite entertaining. I had no idea at the time that he would think about running for president.
I mean as funny as that is we kinda need some examples of how stupid the conversation was for us to believe that it's real don't we? I would love to hear Donald Trump talking to Bale/Wayne about fighting crime and Bane etc or maybe about some of their respective business/philanthropy work as billionaires.
Can really see myself getting a chuckle out of that but instead Bale just decided to talk about his career or something instead. Loser.
For more of the same, here's Christian Bale looking pretty much unrecognisable. Doesn't even matter to Trump though.