When it comes to pizza dipping sauce, you can't really beat Domino's garlic and herb sauce – don't even talk to me about the monstrosity that Papa John's serves up – but sometimes you do have that problem when you're coming to the end of your pizza that you're out of sauce. Complete nightmare.
Images VIA 
Thankfully though, Domino's have finally realised that this is a problem and are now introducing a 320 ml squeezy bottle of the stuff that you can order alongside your pizza. Well, kinda.
Domino's are introducing the offer across all their stores in the UK and Ireland from today, but there are only going to be 800 bottles available as part of a limited edition promotion. In order to get your hands on one, you just have to order a pizza but make sure you pick up 'The Big Dip' – that's an extra large tub of the dipping sauce – as part of it and if you get lucky they'll throw in a bottle of the stuff too.
Here's what Josh Engleman, who is apparently Domino's Master Drizzler had to say about the offer: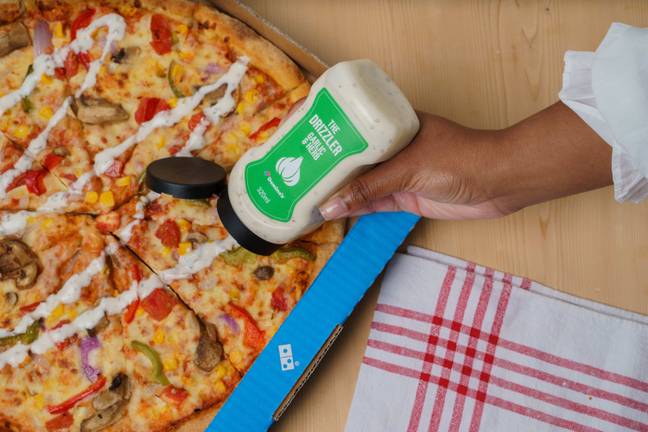 Many of us have difficulty with the drizzling dilemma we face with the Garlic & Herb dunk-friendly pot.

So we're extremely excited to be launching our exclusive Domino's Drizzler bottle with a design tried and perfected by our willing volunteers over lockdown.

Many have tried to make their own versions, but nothing comes close to Domino's Garlic & Herb sauce.

We can't wait to see fans in full drizzling flow, so share your tekkers on our socials with #DominosDrizzler if you are lucky enough to get your hands on a bottle.
Yeah I mean, if they spent so long perfecting the bottle, why don't they just roll it out and put it on general sale so that everyone can enjoy it? That's clearly what people want so it seems like a bit of a tease to offer it up limited edition.
Hopefully everyone talks about it and has such a good time with it that they actually start making it full time. We can but hope.
For more of the same, check out when people on TikTok dipped their balls in soy sauce. That was weird but I mean it's TikTok.