It's fairly often we have to write about something that makes us grimace and wince here at Sick Chirpse and this is another one of those times, as news has come in from Dublin of all places that a dog has died after it was eaten alive by maggots after severe neglect.
Featured Image VIA
You might expect something like that to happen in some third world or less economically developed country, but you don't expect to be hearing of such impoverished conditions over here. It's happened though and the DSCPCA are calling it the worst case of coat matting and cruelty towards a dog in years.
The dog was picked up in the Lisdisfarne area of Clondalkin, Dublin 22 last Thursday 11th of July after it was seen to be infested with fly maggots and suffering from severe matting. DSPCA workers removed the maggots one by one and flushed and cleaned the wounds – some of which were black from the flesh rotting so much – but unfortunately that wasn't enough and the dog died on Sunday. RIP.
DSPCA Chief Inspector Liam Kinsella had this to say about the tragic incident: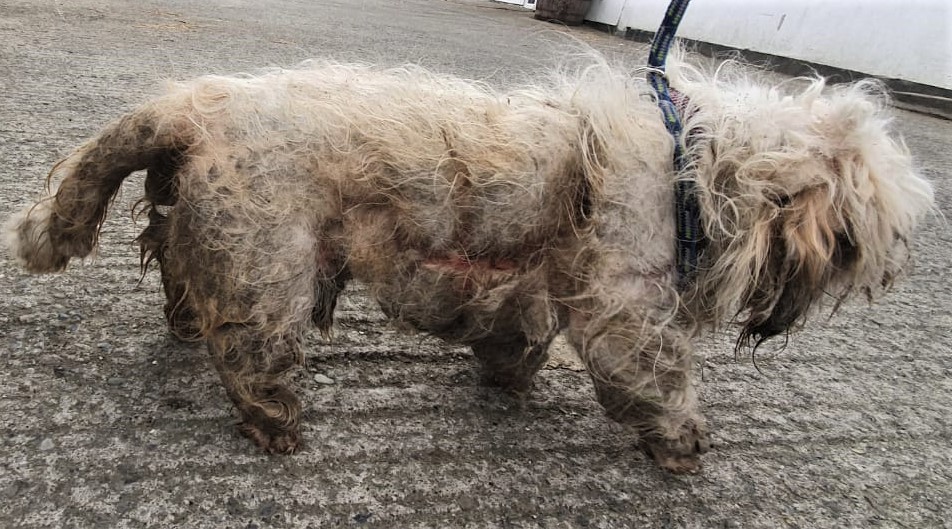 The dog was not old and should have had a happy life but instead was subjected to complete neglect.

A Shih Tzu is a family pet and should be treated as one but instead this little dog was subjected to filth and dirt with probably no washing or brushing of her coat since she was a pup.

The owner must have known the skin was infected as it way raw and bleeding plus the presence of flies around the dog would have been evident.

This dog suffered immense pain as she was practically eaten alive by fly maggots and had open infected wounds under a filthy severely matted coat.
What an absolute awful person the owner must have been. I hope they go to jail for a long time because of this, if anyone is able to ever determine who owned her. The dog wasn't microchipped and it doesn't seem like there are any leads as to where she came from. I hope this asshole doesn't get away with it, but it's looking like they might do sadly. RIP.
For more of the same, check out this footage of a dog almost drowning after being forced to shoot a movie scene. Terrible.