I'm gonna be straight up honest and say that I don't know or care much about the world of YouTuber's, but I have caught wind recently that one of them called Shane Dawson has recently been called out about his problematic past, causing YouTube to disable all ads on his videos and most of his sponsors to drop him.
Featured Image VIA
Dawson has 22 million subscribers and is generally well known for sketch comedies, musical bits and talking about conspiracy theories, but over the last couple of days he's been well and truly cancelled. He was first called out for using blackface in old videos and generally being racist, then called out again for what can only be described as paedophilic tendencies, before finally being accused of masterminding the cancellation of another YouTube star named James Charles. There was a lot of drama basically, and you can read up on it all somewhere else with a quick Google. Well worth it to be honest.
Anyway, due to all this controversy Dawson seems to have been completely cancelled, even though he issued his own apology/explanation for his actions. When that didn't work though, he seems to have taken to his cat's Instagram account – which he allegedly was in charge of himself – to beg people for forgiveness.
This isn't even unusual in the world of YouTube, but still really hilarious:
Shane Dawson doing an appreciate post for himself via his cats Instagram is so embarrassing pic.twitter.com/4FtMftCUGN

— ℕℝ (@nicomander) July 1, 2020
Lol. I mean that's a new low for the guy really, especially if he didn't think anyone was going to call him out on this, which is obviously exactly what happened as the account was completely rinsed.
The drama increased even more later on though after the account was bombarded with messages calling it our for its bullshit, first of all going private and then displaying in capitals that it didn't belong to Shane Dawson in its username. It then posted the following explanation before being so inundated with messages that it deleted the account for good. Lol.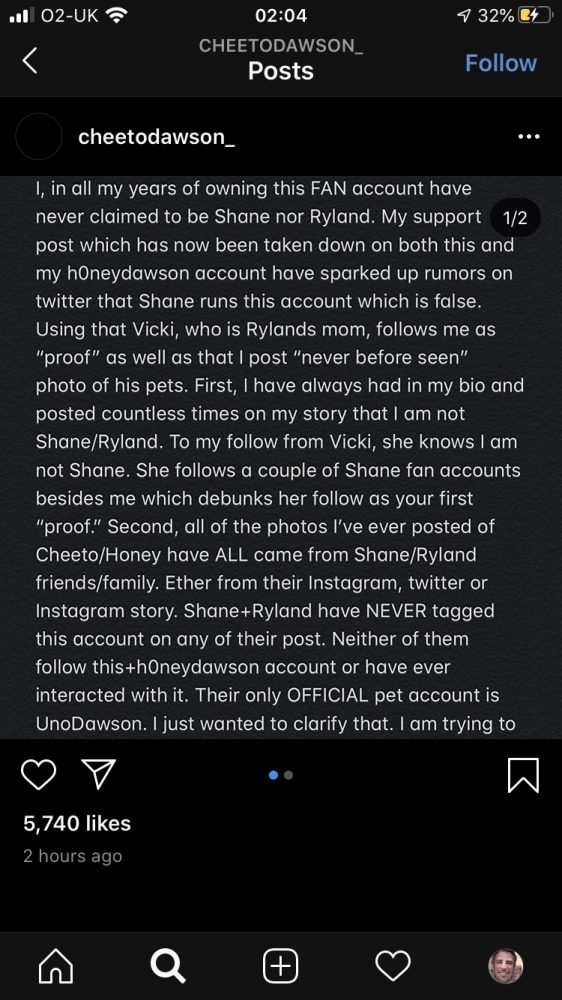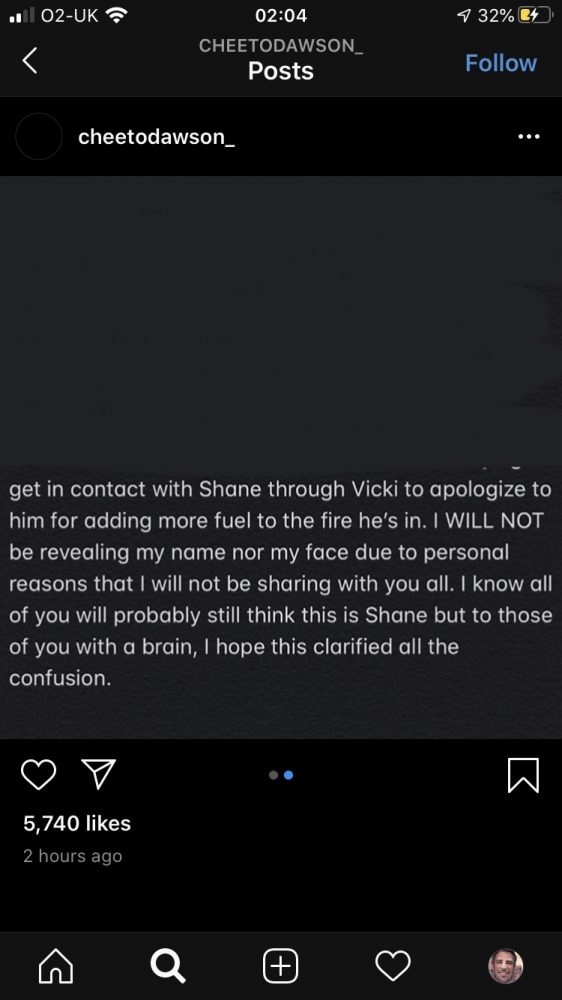 I mean I guess it's possible that it was a fan account, but if that was the case then that makes its message even weirder because it's supporting all the gross ass problematic/awful shit that Shane Dawson has pretty much been proven to have committed. People that stan YouTubers like this are weird and this whole situation is weird, if somewhat funny (the fact that his cat's Instagram page wrote a post supporting him, not everything Dawson has been accused of doing).
Definitely funnier to believe that Dawson is making all this up though and did make a post from his own cat's account begging for forgiveness. That shit cracks me up – has to be the lamest ever.
For more of the same, check out this story about when Shane Dawson got arrested for trying to have sex with his cat. Oooof.