Pritchard from Dirty Sanchez – who is incredibly 42 and still going at it hard –  has apologised to Dolph Lundgren after he pissed all over him on a 14 hour private jet trip from Amsterdam to Reno, Nevada. Pritchard was competing in the Gumball Rally, which this year began in Scandinavia and will finish with a drive from Reno to San Francisco. The flight on a private jet was the easiest way to get all the competitors over to the States.
The funniest part about all of this is that Pritchard can't even drive after being banned, so he's literally just been partying and getting messed up the entire time the Rally has been going on. That sounds like a pretty good way to spend your time, especially when everyone else has to drive. Having said that, knowing this was going on it seems inevitable that something like this would happen when they boarded the transatlantic flight.
Pritchard is blaming it on the fact that he mixed Xanax with alcohol and didn't know that this would completely mess him up, but I'm not really that convinced by his explanation considering everyone knows that combining the two is not a good idea and he's pretty much a 42 year old professional wreckhead. Still, that's his story and he's sticking to it I suppose. Here's what he had to say about the whole trip:
Images VIA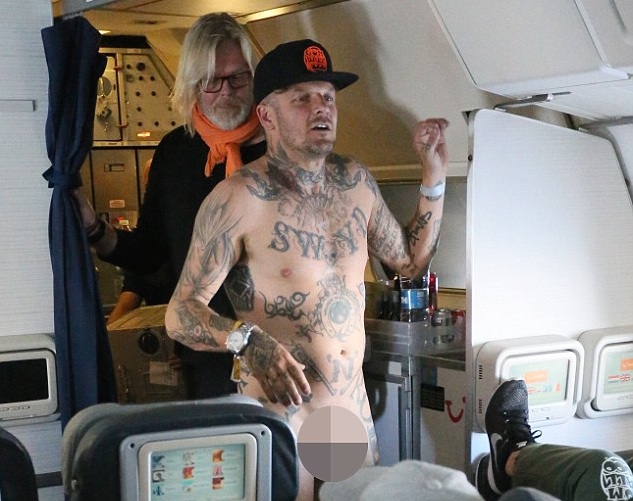 I took a Xanax, which is a sedative that knocks you out, to put me to sleep on the flight.

I didn't realise you're not supposed to mix them with alcohol. I had a lot of alcohol and blacked out.

I started running up and down the flight naked. And proceeded to pee on Dolph Lundgren's feet.

I can't remember any of this.

Apparently Dolph was not too happy.

Afterwards Dolph shook my hand and said not to worry about it. I don't know why I wasn't arrested at the airport.
Well, that's fortunate. You probably don't want to get on the wrong side of Dolph Lundgren.
A bunch of photographs have been released from the flight which makes it look like an absolutely sick time – people are smoking, drinking, getting naked, having pillow fights and just partying like mad basically. You can see a collection of those on the slideshow and it will pretty much make you want to hire a private jet and party in it immediately. If you're a baller, maybe take a look at getting this $400 million dollar private jet – you would certainly look the part in it.
(Click arrows/swipe on mobile to work the slider)