Rapper T.I. has been getting absolutely slated this week following comments he made on a podcast admitting he accompanies his 18-year-old daughter to the gynaecologist once a year to make sure her hymen is still 'intact'.
Here's a reminder of what he said in case you missed it:
Not only have we had the conversation, we have yearly trips to the gynaecologist to check her hymen. Yes, I go with her … I will say, as of her 18th birthday, her hymen is still intact.
When it was pointed out the hymen can be broken outside of sexual activity:
So then they come and say, 'Well, I just want you to know that there are other ways besides sex that the hymen can be broken like bike riding, athletics, horseback riding and just other forms of athletic physical activity'. So I say, 'Look, Doc, she don't ride no horses, she don't ride no bike, she don't play no sports. Just check the hymen, please, and give me back my results expeditiously.'
Social media users, parenting and healthcare groups unanimously condemned T.I.'s parenting technique, and it looks like 18-year-old Deyjah Harris isn't happy about it either.
While she's yet to put out a statement about it, she's been liking a number of Twitter posts that seem to indicate how she really feels, including:
This is disgusting, possessive and controlling *whew*
And:
That is beyond possessive.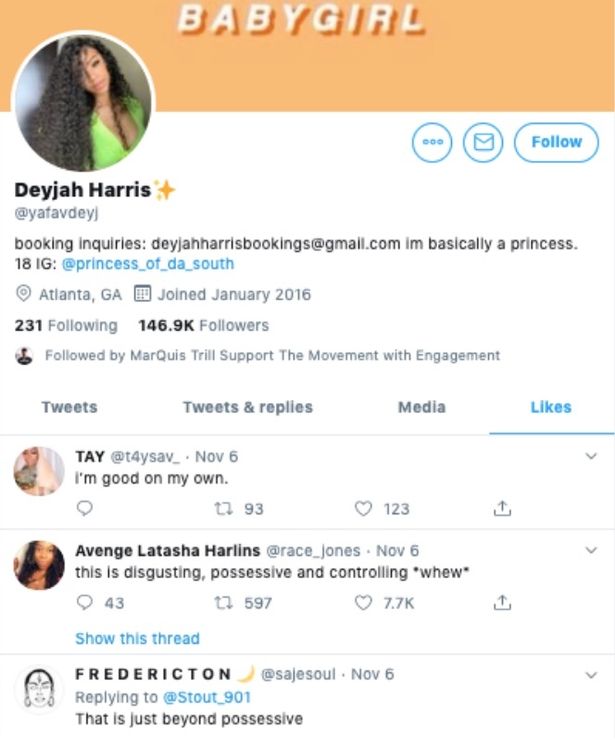 Well I don't blame the girl, especially since T.I. admitted on the same podcast that he doesn't have a problem with his 15-year-old son being sexually active and not to mention his own rap lyrics are filled with references to sex (he even had a verse on 'Blurred Lines' FFS).
Anyway, maybe T.I. will learn something from all this and ease off on Deyjah so she can go off and enjoy her uni years in peace.
For the insane CCTV footage of rapper Troy Ave shooting up T.I.'s concert, click HERE. Maybe that's why he's so paranoid and protective of his daughter.