At the UFC Vegas event on the weekend, Derrick Lewis looked to have clearly KO'd opponent Curtis Blaydes, but followed up with a couple of vicious punches to the face by the time the referee jumped in to stop the bout.
Here's a reminder:
Derrick Lewis (+300) with a murder

— Barstool Sportsbook (@BSSportsbook) February 21, 2021
Bit unnecessary? Not according to Lewis himself who later explained and justified the extra punches by pointing out that you never know – his opponent could have sat up like The Undertaker from WWE and no-sold all the punches on the way to a comeback:
There was nothing personal to Derrick Lewis' (@thebeast_ufc) extra punches after dropping Curtis Blaydes.#UFCVegas19 | Full interview: https://t.co/v5zDe0JBhK pic.twitter.com/lC7TW4NjUJ

— MMA Junkie (@MMAjunkie) February 21, 2021
Well, when you put it that way, I guess it's completely understandable. Although to be fair I'm sure I've never seen anyone in MMA transform into The Undertaker and sit right back up, especially after being knocked out COLD by Derrick Lewis himself.
But who knows? There's a first time for everything, right?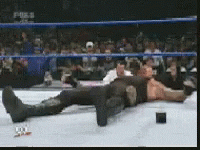 Speaking of WWE, Derrick celebrated his knockout win inside the Octagon with the classic Undertaker cut-throat gesture, followed by an old school DX crotch chop. Lovely:
Derrick Lewis now holds the record for most knockouts in UFC history (12 – all punches), and was bigged up massively by UFC legend Daniel Cormier after the fight:
Time to put some respect on @thebeastufc name. Swipe for video explanation. Dude has power to match anyone in the heavyweight division. pic.twitter.com/dZpKJXVgVM

— Daniel Cormier (@dc_mma) February 22, 2021
So what's next for Derrick Lewis? Apparently he has his sights set on 'so-called legend' Alistair Overeem. Don't know about you, but I'd be quaking in my boots.
To watch 3 amateur MMA fighters take on a single pro and get absolutely demolished, click HERE.