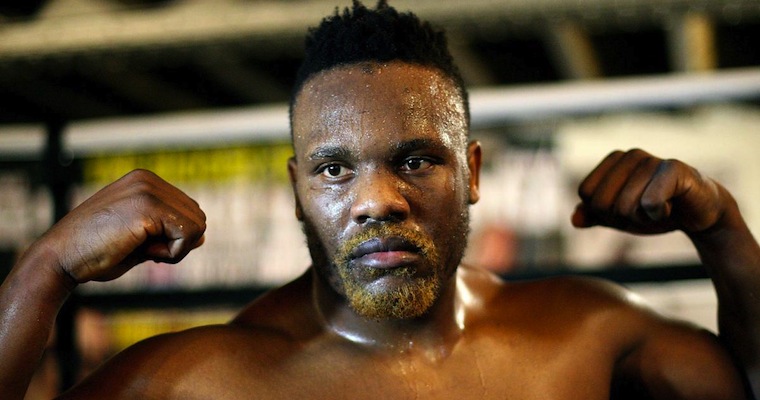 (We originally posted this after the Chisora/Haye bust up in the press room but think it's fitting enough to re-post ahead of tonight's big match)
First of all, who the fvck is this Chisora guy? Where has he come from and why is he getting so much attention? I'll tell you why, because he's a fvcking idiot. To start with, Dereck Chisora is given the absolute privilege to stand in a boxing ring and fight with Vitali Klitschko, one of the greatest boxers (along with his equally hard as nails brother) of our time. Before the match against Klitschko, Chisora had lost 2 of his 3 fights, not a great record. He was destined to fade away into the shadows of boxing's 'not good enough to get to the top' crew, so a fight against Klitschko was a chance for him to make a name for himself, re-ignite the flame and essentially become way more famous that he was before, even if he lost. Instead of honouring this opportunity, Chisora shat all over it.
Let's look at what's happened in the lead up to the fight, the fight itself, and the shocking post-fight scenes.
Pre-Match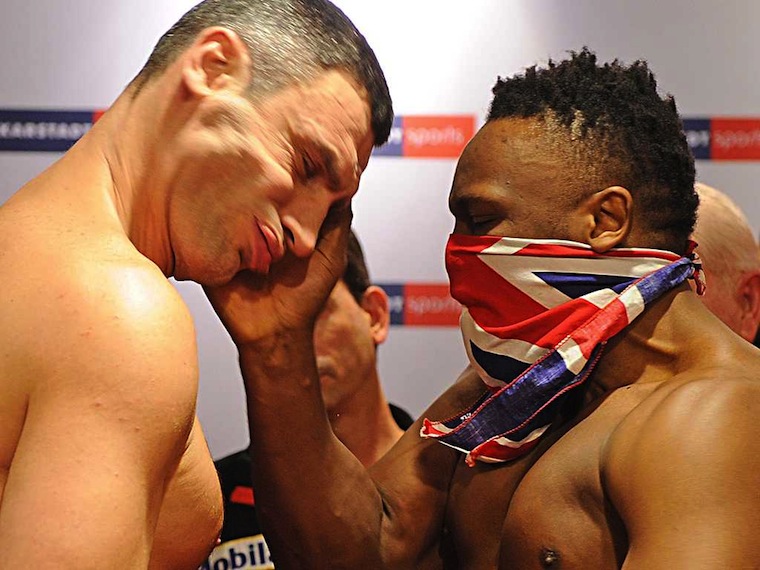 At the pre-match weigh-in for the fight between Vitali Klitschko and Dereck Chisora, Chisora rocks out wearing a Union Jack bandana around his face, giving substance to the assumption that he's just a thug. Chisora then proceeds to SUCKER SLAP Klitschko while they carry out their pre-match face-to-face stand off (watch the video of the slap here). Why did he do this? No doubt it was a hype stunt which deservedly gained Chisora the attention he was seeking. It was all over the papers, TV and internet. Job done.
The Match – Vitali Klitschko VS Dereck Chisora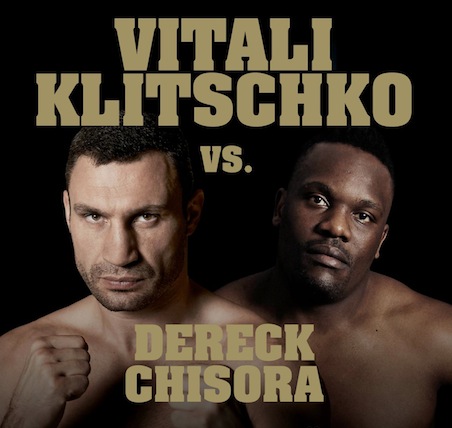 The match itself was pretty standard. No ear biting and no low blows. There was some spitting, but we'll get to that in a second. Chisora stood for the whole 12 rounds, which is an impressive feat in itself when against the Ukranian giant that is Klitschko. Klitschko predictably won on points – I had him down to knock out Chisora in the first round at 16/1, so gutted that didn't happen. Klitschko acted extremely respectably during the match, as he and his brother always do. You'd think Klitschko would want to see Chisora's blood after the pussy sucker slap he pulled off in front of the cameras at the weigh-in, but no, he held his cool, fought with focus and deservingly won the fight. Even after Klitschko had been announced the winner, he didn't care to over celebrate or run salt into the wounds of his opponent. Klitschko took his title with dignity and respect, like a sportsman. Chisora on the other hand doesn't seem to have this gentleman-like streak within him to deal with such matters in the same way.
[yframe url='http://www.youtube.com/watch?v=mYO3lFE4IWg']
Foreal! He just fvcking spat in Klitschko's brother's face! Like, what the fvck is he playing at? What a way to prove you're a complete thuggish prick by losing the fight and then spitting in your opponent's brother's face. T-WAT! The Klitschkos handled the situation well, once again, and retreat from the ring without much (if any) reaction to Chisora's dick-headish maneuvers.
Post Match
So after all of this has happened you would think that that would be the end of it, the fun had been had, the controversial stunts had been pulled and the papers were ready to write up some juicy heat about Chisora being a prick. Well it turns out there was more than one prick in the vicinity.
Dereck Chisora was giving his post match press conference when David Haye pipes up and starts heckling about Chisora being a shit fighter who had lost his last three fights. Klitschko's management steps in to tell Haye he can't just talk himself into another fight and asks for him to be removed from the room. Chisora gets involved and starts blaming Haye for why Sky had stopped doing Box Office on boxing games as it was because of his performance in his previous fight which was also against the other Klitschko, Wladimir. Haye challenges Chisora to a fight and Chisora walks over to Haye (while asking his team to stand behind him) to confront him face to face. Remember, this is during the middle of a press conference which is obviously full of cameras and microphones and not somewhere that you would want to do anything incriminating. Haye (maybe a little bit tipsy at this point, as he is seen drinking from what looks like a bottle of beer) doesn't fvck around and delivers a swift blow to Chisora's face. A scuffle breaks out and Haye is seen launching a camera tripod at Chisora which incidentally ends up hitting his own trainer Adam Booth in the head causing a pretty nasty gash. Chisora claims that Haye glassed him and is heard shouting 'he glassed me' repeatedly after the brawl broke out. At the end of the video Chisora is heard shouting 'I'm going to shoot David Haye, I'm going to fvcking shoot David Haye'. Drama or what!
[yframe url='http://www.youtube.com/watch?v=MGjxM6KNHpY']
Whatever happened, Chisora is cunt, Haye is also a cunt and the Klitschkos have my utter most respect for the way they handled the whole pre match/match/post match dramas. What's next? Chisora VS Hayes? I hope not. Those thugs shouldn't be allowed to ever fight in a professional boxing ring again, let alone get paid for it.
(Turns out Derreck Chisora was a well publicised cunt before any of this happened, as you can see from his Wikipedia picture here which shows him sharing phone banter with none other than cross dressing Jordan/Chantelle shagging attention seeking wannabe TV personality cock Alex Reid.)