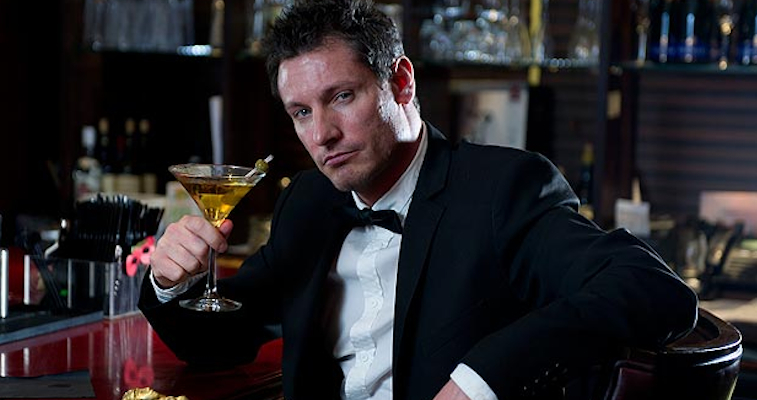 Props to Elliot Baker for alerting us to do this one. I don't really know what Dean Gaffney has been up to since he left Eastenders back in 2003 except I'm pretty sure that he was in one series of I'm A Celebrity Get Me Out Of Here, which pretty much confirms his status as a Z lister. He's like a really shit version of Danny Dyer or something. I'm surprised we haven't featured more stories about him here on Sick Chirpse, but then again I guess he isn't really that funny or important to even mention. To be honest I don't even really know who he is, but he just has one of those names that whenever you hear it you just kinda groan a bit and think 'oh man, Dean Gaffney, what the hell is he up to now? Probably something lame' and that's exactly the case in this story. Although in reference to the Danny Dyer comparison earlier it is like something that a really lame version of Danny Dyer would try out.
Dean Gaffney thought it would be a really good idea if he applied for a job as a mobile surveillance officer at MI5. Yeah, I bet he's definitely qualified for that. Explaining his reasoning for applying for the job Dean said 'I love spy films and the whole James Bond thing and I've got an inquiring mind, so I thought I'd give it a go. MI5 put out an advert looking for people and I thought how hard can it be? Most spies spend their lives pretending to be people who they're not. I do that for a living.' My bad, he's clearly overqualified for the position and that's probably why he's not going to get it.
☛ More: James Bond Is A Twat 
However he immediately contradicted himself by also offering the following statement over his reasons for signing up: 'I know it might seem odd with me being a bit of a face – but in some ways that could work for a spy. No one is going to think that Dean Gaffney off the telly is working for MI5. It's the perfect cover.'  Sooooo is being a z list celebrity who some people recognise who's actually a spy the perfect qualification for this job, or is it that you're an actor who's good at pretending to be other people. Make your mind up pal. Or maybe it's this kinda headfuckery that is gonna score him that job.
Apparently he heard the advert on the radio when he was on his way back from a London club (who the hell still goes out clubbing when they're 34 and pretty much married with two kids) and got up and applied immediately the next day. '"The acting work was drying up a bit and I've got two 16-year-old daughters who want Christmas presents under the tree. A man's got to work. The recession has hit everyone. I'm no different. I still work and get by but life isn't cheap.' It might be cheaper if he wasn't gallivanting at London clubs all night and then getting taxis home too, but I guess he gets by so that's OK and if he gets this job at MI5 he'll be raking it in.
I'm also pretty sure that if you apply for a job at MI5 then you're not supposed to tell anyone because you're not allowed to tell anyone that you actually work there either. So now that this has come out in the national newspapers it's probably pretty unlikely that Dean Gaffney is going to be on her majesty's secret service any time soon. Although – like Dean said – this could all be the perfect cover.
Yeah right, gimme a break. At least he got a swell photoshoot in The Sun of him walking around like he's James Bond. Apparently this was front page news yesterday in The Sun too which I guess meant it was a pretty slow news day. Here's a couple of pictures from the shoot and a really dumb video:
☛ More: Danny Dyer Gets Interviewed On Acid 
☛ More: Iran And India Arrest Pigeons Accused Of Spying