I dare say that most of us out there have probably thought about at least one member of the Friends cast when we've been jerking off – they're just too famous and good looking for us not to have done – so a porn parody of the show starring the actual actors is bound to be a money maker isn't it?
Featured Image VIA
Unfortunately for me – I am a guy – remember, they haven't managed to line up Jennifer Aniston or Courtney Cox or even Lisa Kudrow, but instead David Schwimmer. Ew. I know there are some girls out there who probably find him attractive but I mean really? Does anyone want to watch David Schwimmer porn?
I think the answer there is not really, but in all honesty if he did make one of these movies then I probably would dip in for a minute just for the lolz of it. And it seems like some guys from YouPorn think that might be the case amongst a lot of people because they've literally sent a letter to Schwimmer offering him $1 million to star in a porn version of Friends: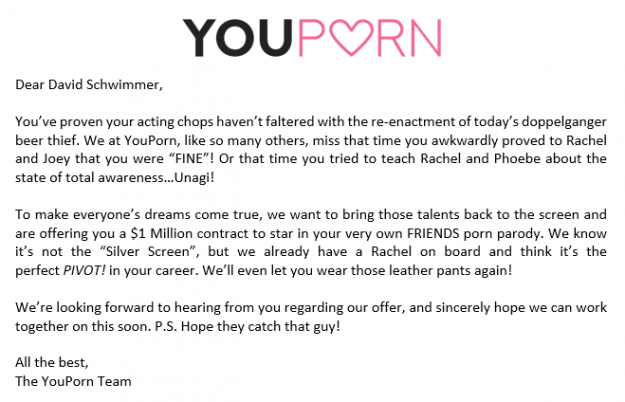 'To make everyone's dreams come true', sure. Gotta give props for all the Friends references they managed to fit in there hey, but I question whether this is even real or just a cute meme that they posted on David Schwimmer's Facebook page. Either way it's kinda jokes and I do hope it happens because just think of Ross's stupid facial expressions when he's actually having sex with a Jennifer Aniston lookalike. You know only the real David Schwimmer could pull that off right.
For more of the same, check out the only member of Friends who had to audition twice for the role. Who's your money on?