Anticipation was at fever pitch for the upcoming Haye Vs Bellew fight following their epic bout earlier this year, but it looks like we're going to have to wait a little longer as David Haye announced today that he was going to be pulling out of the fight due to an injury.
Featured Image VIA
What's even more annoying about that though is that the injury is completely ridiculous and doesn't even really make that much sense. Get a load of his statement:
I am devastated to announce my much-anticipated rematch against Tony Bellew has been postponed until March 24 or May 5, subject to scheduling.

Despite the recent injury rumours, I was in perfect condition with an incredibly strong training camp, currently weighing lighter than I have for more than five years, I couldn't wait to get back in the ring. I was ready to rewrite the ending of the Haye Bellew saga.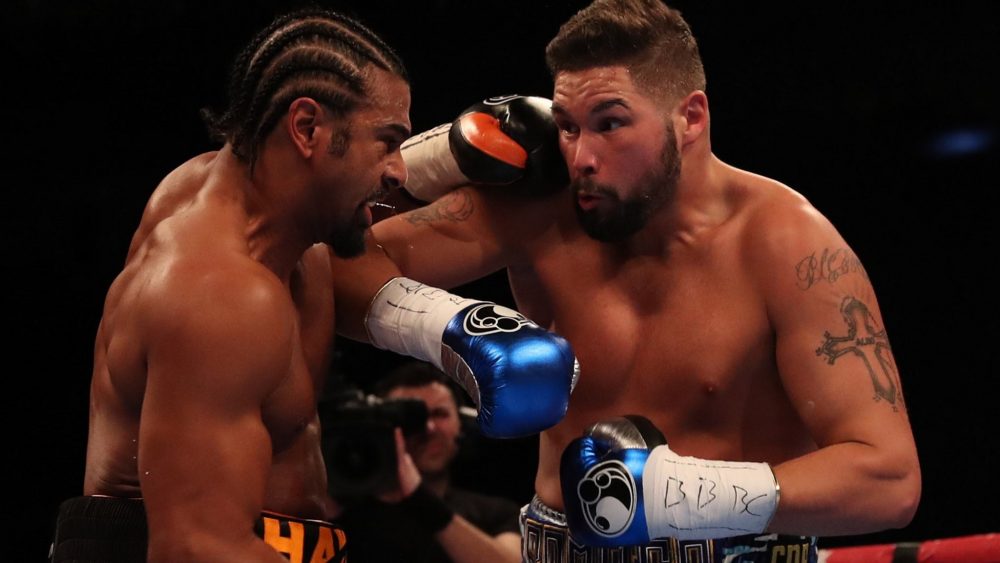 Unfortunately, after a freak accident during a stair conditioning session, which I've done with no incident hundreds of times, I lost my footing, slipped, so instinctively grabbed the bannister to stop myself toppling down the stairwell, in doing so I somehow managed to damage my bicep in the process. This afternoon I underwent a procedure to repair it, this was pretty straightforward and my doctor and physiotherapist have no doubt that not only will I make a full recovery but will be able to be back in the gym to start my arm rehabilitation in two weeks.

I would like to apologise to Tony, his family and his training team, as well as all our fans who have been left disappointed.  I've been solely focussed on this fight and it's extremely frustrating that I couldn't finish 2017 with just my ring performance doing the talking. I look forward to getting back to training and into the ring in early 2018 with excitement and determination.
Damn, so he fell down the stairs and somehow that managed to damage his bicep? Weird and kinda soft to to be honest, but I suppose that's why it's being labelled a 'freak' accident. Let's hope he gets well soon so we can finally see this fight, although there are rumours that Tyson Fury is going to come back to take Haye's place next month which is pretty exciting. Wait and see.
For more David Haye, check out why he think Tyson Fury will never fight him. Controversial.