David Beckham said goodbye to Spurs on Tuesday by buying his teammates his favourite East End meal of pie, mash and liquor.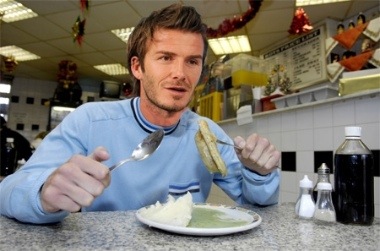 Although he wasn't allowed to play for Spurs, Becks still clearly enjoyed his time training with the club as he ordered 12 portions (only 12??? Surely there are more players in the Spurs squad than that??) of the meal from Tony's Pie and Mash Shop in nearby Waltham Abbey for a goodbye meal.
Harry Redknapp explained that the food confused some of the Spurs players though: "The foreign lads weren't too sure. It's only us cockneys who know what pie and mash is. I was brought up on it so when they came I had three." So if Harry Redknapp had three portions that only left nine for the rest of the squad. Surely Beckham could have forked out for some more??
In any case, who do you think ate all the pies? My money's on Alan Hutton, I bet he loved a good pie up in Scotland. Look at him licking his lips at the very thought of one: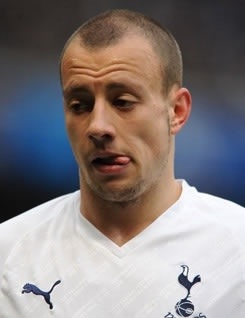 Tony's Pie and Mash Shop has been a favourite of Beckham's for a while, according to shop owner Tony Lane who claims that Becks has been a regular customer for the past seven years. I'm not sure what Tony Lane describes as regular though, considering Beckham has been based abroad for the past seven years….
Lane revealed that Becks even bought his family into the shop: "He has brought his family here as well. Victoria doesn't eat it, I don't think she's a pie and mash girl, but his boys seem to love it." This makes sense, considering she's probably the skinniest woman in the world. Lane also revealed Beckham's other favourite dish: "David also loves jellied eels — but he doesn't like the stewed version."
Tony's Pie and Mash Shop has definitely got me interested – look out for a review in a Brap or Crap soon. I won't be trying the jellied eels though – rank!