Get ready for a sucker punch to the stomach, because none other than the great grandaddy of Britain, David Attenborough, has admitted he "can't bear" to think about the future as he doesn't have long to live.
Featured Image VIA
But while his own mortality is painful enough to think about, the national treasure is talking about the bigger picture and let's just say the outlook isn't too peachy for the planet we live on.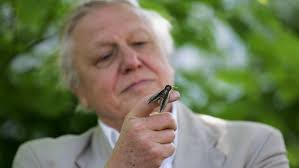 During a recent discussion about climate change with former UN climate chief Christiana Figueres, the 92-year-old Our Planet host said he doesn't like to think too much about what the future holds for his loved ones.
I don't spend time thinking about that because I can't bear it.

I'm just coming up to 93, and so I don't have many more years around here. I find it difficult to think beyond that because the signs aren't good.
Are you crying yet? Well dry those tears because there is some hope on the horizon and it comes in the form of the young protestors and activists like Greta Thunberg speaking out about the issue.
[Young people] understand the simple discoveries of science about our dependence upon the natural world.

My generation is no great example for understanding – we have done terrible things.

That is the one big reason I have for feeling we are making progress. If we were not making progress with young people, we are done.
That's all well and good, but the question remains: who is going to replace Attenborough as host of our favourite nature shows? A world without David Attenborough is a very dry world indeed – it doesn't bear thinking about.
Then again, if the world is as fucked as it appears to be, we won't have to worry as we'll be too busy trying to fend for our family in a climate change apocalypse. You might scoff at the idea, but all signs point to it happening in our lifetime.