We (finally?) learned the name of the Royal Baby yesterday and although I didn't cover that here on Sick Chirpse, I'm sure that you'll all know that his name is Archibald Harrison Mountbatten-Windsor. What a mouthful.
Featured Image VIA 
I'm sure most of us don't really care that much about the Royal Baby, but I doubt that our disinterest and disdain extends to posting something on social media comparing him to a chimpanzee. Sadly, this is how Danny Baker chose to celebrate the news by posting the following tweet to his timeline: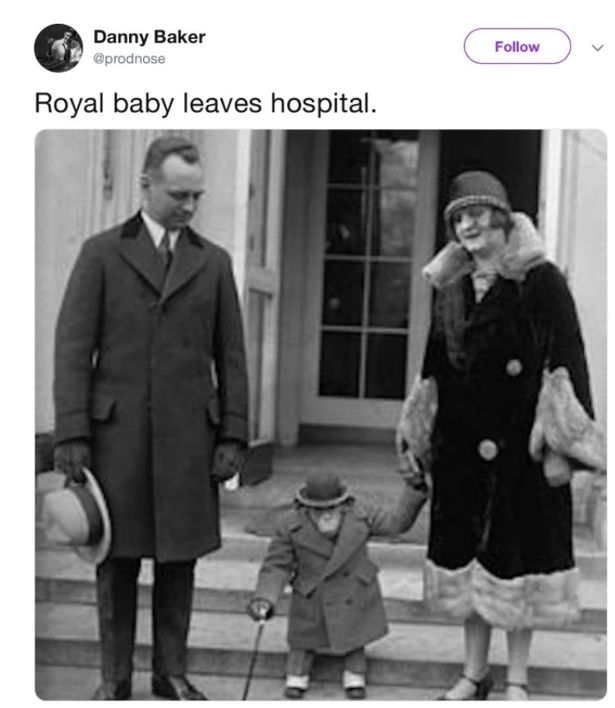 Oh dear. Obviously it's not good to compare any newborn baby to a monkey, but probably even less so when the mother of said baby has black heritage and is the newest member of the Royal Family. Well, after her son.
Needless to say, Baker has been swiftly fired from his weekly radio show on BBC 5 and to make matters even funnier, he decided to livetweet the whole thing for us and tell the world why he feels very hard done by with the decision.
Here we go.
Opened door, grinning Mail hack.
"Do you think black people look like monkeys?"
Any other time you'd knock someone right on their arse for saying that.
No mate. Gag pic. Posh baby chimp. Alerted to circs. Appalled. Deleted. Apologised.
He asks again! #MailonRacism

— Danny Baker (@prodnose) May 9, 2019
Now Sky at the door.
Would have used same stupid pic for any other Royal birth or Boris Johnson kid or even one of my own. It's a funny image. (Though not of course in that context.) Enormous mistake, for sure. Grotesque.
Anyway, here's to ya Archie, Sorry mate.#Occam #Razor

— Danny Baker (@prodnose) May 9, 2019
Just got fired from @bbc5live.
For the record – it was red sauce. Always.

— Danny Baker (@prodnose) May 9, 2019
The call to fire me from @bbc5live was a masterclass of pompous faux-gravity. Took a tone that said I actually meant that ridiculous tweet and the BBC must uphold blah blah blah. Literally threw me under the bus. Could hear the suits knees knocking. #Fuckem

— Danny Baker (@prodnose) May 9, 2019
Awah. To be fair, Baker is a grade A moron for tweeting something like that and probably deserves to get fired – I mean you've really gotta be living in another century to think that something like that is going to be acceptable in 2019.
The other man talking point from all this is that Danny Baker is still around. Admittedly I don't really listen to the radio, but I don't think I've even thought about him for about 20 years. He might be gutted that he's been fired by the BBC but he should probably be thankful that people are talking about him once again – surely it won't be that hard for him to get a new job after the controversy surrounding this? Some dickheads are bound to hire him for exactly that reason, right?
For more of the same, check out this story about how the Royal Baby's birth was completely fake. Good one.