Dan Bilzerian was never one to shy away from being the controversial all American badass, playing his cards, drinking his beer, shooting his guns and shagging his women. That is until late last year when he got sued for kicking a woman in the face and subsequently went kinda quiet.
It turns out that you can't keep him down that easily though and he's re-emerged with probably his most despicable act yet. Dan somehow got embroiled in some kind of beef with the CEO of BodyBuilding.com Ryan DeLuca, which apparently came about because DeLuca was talking shit to Bilzerian down his wife's phone.
Unfortunately for DeLuca, Dan had the perfect comeback when he posted a pictures of DeLuca's wife in sexy lingerie with one of his guns on his bed as proof that he had recently banged her. Oh shit.
Featured Image VIA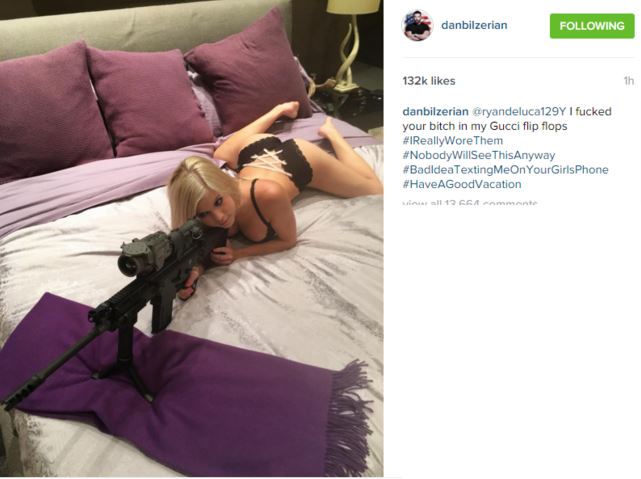 Image VIA 
The post has since been deleted, although Dan did follow it up with another one that actually showed his Gucci flip flops and said 'don't text me shit off your wife's phone'. Standard, although that's also been deleted as well.
Rather than retort with some asshole jibe – although to be honest there isn't really much of a retort when someone's just told the whole world they fucked your wife – DeLuca has instead decided to act with dignity and try and be a good guy, as seen by the following post on his own Instagram.
I mean that's all very well and good and fairly respectful to be honest, but I think this dude is going to have a lot of trouble getting more followers than Dan Bilzerian considering he's on about 30K at the time of writing and Dan Bilzerian is on 13.5 million. I'm not even sure what it's going to prove if he does achieve it, because I doubt Dan is even going to care if he has more followers, at the end of the day he's still fucked his wife.
People always want to follow the bad guy too and not the good guy so I doubt DeLuca will even achieve this but good luck to him – I gave him a follow earlier today. Maybe if he makes it then Dan will give him $250K to fight him, like he tried to with this blogger once.