As you've probably noticed if you're a regular reader of the site, Dan Bilzerian has had a pretty bad week of it – being sued for kicking a girl in the face, then for throwing a porn star off a roof and for being arrested for manufacturing explosive devices – but he's kept quiet about it all until now and finally released the most typical Dan Bilzerian statement regarding it all today.
Are you ready? Here goes:
The allegations being made about me are absolutely false. I look forward to shedding light on what happened through proper channels.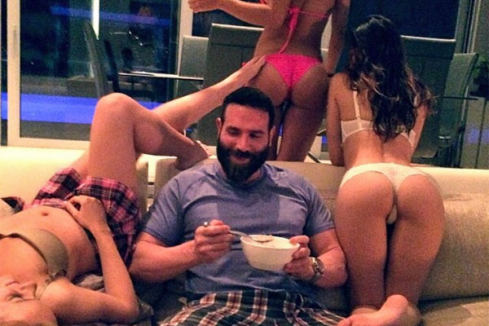 Great. Dan's a bit more worried about it than he's letting on though apparently and is getting pretty distressed by his current problems, with a source close to him (or a guy hanging out on a street corner, who knows) , saying the following:
He has never condoned any sort of violence towards women. That's just not what he's about. Sure, he has sexual relationships with women, but he is all about respecting women. The entire thing seems very, very suspect. I think that because of Dan's public lifestyle, he's a target for this type of thing.
Whatever 'this type of thing' means – I'm assuming it means being sued under false pretences – maybe it will make Dan think twice about his ridiculous Instagram photographs in the future. Probably not though because we all know that he loves flaunting just what a badass time he's having pretty much all the time – that is if he isn't in jail.
Dan's taken a vow of silence until the courtroom so it might be a while before we hear from him or see him update his Instagram. Here's hoping he isn't quiet for long though, because whatever he's doing it's usually interesting.